'Happy' 2nd birthday, COVID-19
There once was a time when the month of March had a positive connotation. The days got longer, flowers began to bloom, the weather got warmer and life overall became brighter. Spring was on the horizon. However, the month is now permanently associated with a deadly virus, scarring the month with negativity for the unforeseeable future. Unable to shake its label, March 2020 was the month the world shut down. As we approach March 2022, COVID-19 celebrates its second birthday. For a full two years, the virus has dominated society. 
Since it was first identified in Wuhan City, China, in late 2019, the coronavirus has turned the world upside down. Words and phrases like "quarantine" and "social distancing" have gone from bizarre to second nature for us. The virus introduced mask mandates and isolation guidelines, instilling fear into so many people. 
When talk about the severity of the virus first circulated, people started preparing for the worst. The supermarkets were taken by storm. Every roll of paper towel, case of water, pack of Purel and bag of food was wiped from the shelves. Hospitals gathered all of the gloves, masks, sanitation and face shields that they could, but it still wouldn't be enough for the horror that was impending. 
Within a matter of days, these disturbing rumors became a harsh reality. The "two weeks off from school" quickly turned into a year and a half of virtual school: remote learning, hybrid learning and consistent loneliness. Life became a monotonous cycle consisting of isolation and intense restrictions, eliminating almost every aspect of our lives prior to March 2020. To most students' surprise, at-home learning was not as glamorous as it appeared. Over the extended period of time, it became apparent that for most of us, the most boring days at West Essex were still more entertaining than the best days on Zoom. However, the virus doesn't really care how we feel, for every time it appeared the end was near, COVID found a way to shut us back down.
This March, COVID turns 2 years old, and March 13, 2022, marks the start of Year 3 of our school lives with … all of this.  Although birthdays are typically a time of celebration, this March we wish nothing but the worst for the virus. As its second birthday approaches, the coronavirus has killed over 945,000 Americans according to the CDC's Covid Data tracker. 
Although it is hard to say anything good came from COVID, perhaps one thing we've all learned is that as a society, we should take much less for granted. The coronavirus has reminded us to embrace the little things: walking in the hallways to class, going to sports games, performing in the school musical, hanging out with friends and family, vacations and infinite other things we lost after shutting down in 2020. The virus has served as a constant reminder that the little things matter; they are the pieces that make up our lives. 
For more than 700 days, the unordinary became the ordinary and a life with masks became life as we know it. But 2022 brings the promise of something new; effective March 7, New Jersey Gov. Phil Murphy announced that the statewide mask mandate in schools would be lifted for the first time since COVID-19's arrival. In order to try to return to normalcy, the government is doing everything possible to leave COVID behind. 
Two full trips around the sun, three major variants later and over 5 five million deaths, it's time to move forward and leave COVID in the past. "Happy" second birthday COVID, I sincerely hope it's your last. 
Behind the Byline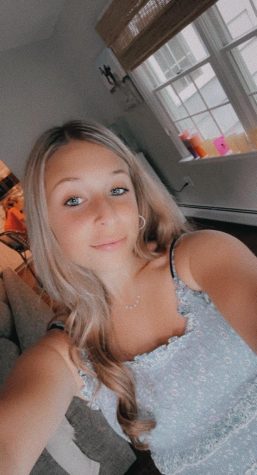 Remi Goldstein, Editor in Chief
Remi Goldstein is an Editor-in-Chief for the 2021-2022 Wessex Wire! She loves hanging out with her friends, listening to music, and playing soccer for both the school and her club team! Remi is an avid coffee drinker and Grey's Anatomy watcher.