SPORTS COMMENTARY: Patrick Mahomes has solidified himself as one of the best ever
If he hadn't already, Patrick Mahomes just carved his legacy in stone, lifting his second Lombardi Trophy and proudly wearing the title of Super Bowl MVP on Feb. 12, after the Chiefs outlasted the Eagles in Super Bowl LVII. By silencing the haters one more time, he has proven himself as one of the best quarterbacks to play the sport. 
Mahomes had an unforgettable performance in Super Bowl LVII, connecting with Travis Kelce in the endzone on their first drive of the game. After Mahomes appeared to reinjure his ankle late in the second quarter, the Eagles proceeded to stretch their lead to a game high of 10 points before halftime. Mahomes stayed in the game, and on the first drive of the third quarter, he led his team down the field to set the Chiefs up with a much needed touchdown. Down six entering the fourth quarter, Mahomes put together two more touchdown drives. The Eagles then countered with a touchdown of their own. With five minutes of time left in the fourth quarter, Mahomes led the Chiefs inch by inch which ended in a walkoff Harrison Butker field goal. 
Patrick Mahomes came out of high school as a dual athlete in both baseball and football. He continued his two-sport athletic career at Texas Tech University. Mahomes shined in football, throwing an impressive 5,052 passing yards and 41 passing touchdowns in his junior season. He entered the NFL draft with many uncertainties from scouts and was considered a long term project at QB. Mahomes quickly silenced all the critics in 2018, throwing for over 5,000 yards and the magic number of 50 passing touchdowns. Only three quarterbacks have ever thrown for 50 or more touchdown passes in a season: Mahomes, Tom Brady and Peyton Manning. 
Mahomes' stellar resume speaks for itself. He has thrown 24,241 passing yards and 192 passing touchdowns, which are both top five amongst active players since 2017. To put his dominance in perspective, Mahomes has played in 18 fewer games than Brady during this time frame but has only thrown one less touchdown. Mahomes won his second MVP for his stellar performance in the 2022 season, throwing for 5,250 passing yards and 41 passing touchdowns, which both led the league. 
Mahomes shows the complete package of arm talent, mobility, decision making, big play ability and composure. His stellar career thus far has seperated him from all other current players, and puts him amongst the best NFL players to play the position of quarterback. The combination of talent and accolades firmly places Patrick Mahomes on the Mount Rushmore of NFL quarterbacks, and the rest of his career will be focused on reaching the illustrious greatest of all time status.
---
Photo credits: "Patrick Mahomes" by All-Pro Reels is licensed under (CC BY-SA 2.0)
Behind the Byline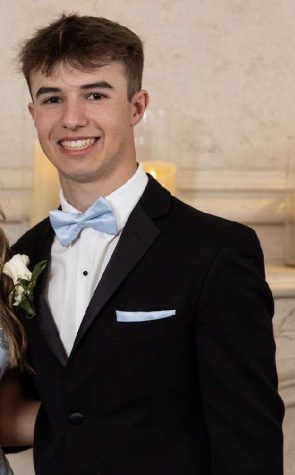 JJ Rella, Managing Editor
JJ Rella is a 2023-2024 Managing Editor for the Wessex Wire. When he isn't playing baseball he's most likely watching the Yankees game at home. He spends a lot of time watching and following other professional sports too, with his other favorite teams being the Packers and Knicks. He also never takes off his wireless beats headphones, listening to Tyler, The Creator, Drake, Frank Ocean and more on timeless loops.