Final whistle blows on boys soccer 2021 season
As the fall air turns into winter chill, the West Essex boys soccer team hangs their cleats and jerseys for the last time for their 2021 season. Emerging 8-6-1, the boys tackled their first normal season post COVID-19 with a sense of determination and optimism, adamant about making up for lost time from their previous 2020 season. 
Though losing 16 seniors left big shoes to fill, the boys welcomed the challenge with open arms and stepped into their roles gracefully. Many saw it as an opportunity to strengthen their team culture. 
"With so many graduating seniors, we had room for plenty of new faces to make an impact on the team," senior Dominic Romano said. "Having almost an entire new team made finding chemistry an early challenge, but once we put the pieces together we became a tough opponent for teams to face."
"The seniors this year have done a great job in filling that role," junior Zach Atlas said. "Our five senior captains and the other seniors on the team are always positive and uplifting, becoming role models of mine on and off the field." 
The boys entered the season with a dominating record of 5-0, a huge feat for the senior class especially, who had a 0-11-2 record their freshman year, making their final season victories even more sweet. 
"From [freshman year] to now the biggest change has been our mindset," Romano said. "When we were freshmen there was no drive to win games, but our growth in maturity throughout the years has made us into an entirely new team."
Though each win was cherished, the senior class's revenge tour peaked during their win against West Essex's notorious rival: Caldwell High School. 
"A huge memory of mine and the rest of the seniors was finally beating Caldwell," Romano said. "We had a close loss on the freshmen team and lost the past two years of varsity to them as well. Finally capping off our high school careers with a Caldwell victory was huge."
The boys credit their immense success to the strong team dynamic they created over their three month season. Leaning on each other for support and guidance, they cultivated trusting friendships that are apparent on and off the field. 
"We are a very close knit team," Romano said. "This plays a big role in how we perform together, when the team dynamic is positive the play will result in positive outcomes. The team this year was unique in a sense that we were one group of friends and that is something my teammates and I are going to miss."
"During games we rely on each other's energy, especially when we're playing teams that are top 20 in the state, like West Orange and Summit," Atlas said. 
Even when a game did not go their way, the boys never hung their heads in distress, rather they capitalized on their losses as opportunities for growth as both players and people. 
"We just try to stay motivated on training and focus on what we can control, which is our performance in our upcoming games," Atlas said. "There was a solid five game streak where we seemed really out of it and that time period really taught us how to react to losing and the ways that we need to motivate ourselves and each other to do better, even when things aren't going our way."
"Our losses this year continue to prove that if we do not play at our top level, we will not win games," Romano said. "By not dwelling in the past and focusing on the future was the only way for our team to recover from bad results."
The 2022 team will face a similar obstacle to this year, for they are losing another large senior class, a majority of which play crucial roles in the starting line up. As always, however, they plan to accept this challenge head-on and adapt quickly so they can emerge even stronger. 
"Our team is going to lose over half of our varsity players so it will be difficult to adjust to such a change but luckily the JV and Freshman teams are very strong and will provide us with the right players that will hopefully lead to a winning season next year," Atlas said. 
Despite the 2021 season being fresh under their belt, the boys already have their eyes set on attaining another successful 2022 season, and with their raw talent and relentless work ethic, this feat is far from out of reach. 
Behind the Byline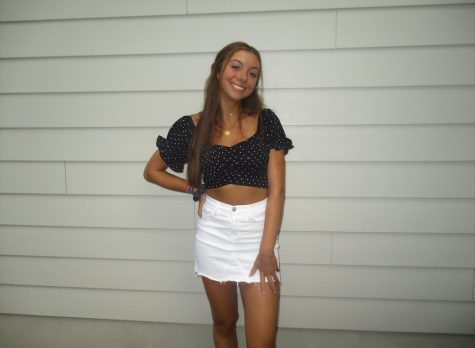 Isabella DeRose, Editor in Chief
Isabella DeRose is an Editor in Chief for the 2021-2022 Wessex Wire, but you can call her Bella. She loves hanging out with her friends, going to the beach and spending time with her family. Fun Fact: She's watched "The Office" seven times, and considers it her favorite show.