TV and movies make a splash
Schools ending, but pay attention! Many new movie and show releases are set to hit the screens this summer, and now, more than ever the entertainment industry has cultivated some of the most creative and highly anticipated films. Here are some you won't want to miss! 
"The Summer I turned Pretty" Season 2
After the heartfelt ending to Season 1, "The Summer I Turned Pretty" is returning to screens on July 14 for Season 2. Viewers can expect an adaptation of Jenny Han's second book in the series, "It's Not Summer Without You," but with some unexpected twists and turns. Major news regarding Susannah's cancer will be exposed along with details as to how Belly's relationships with both Jeremiah and Conrad will play out. According to Elle News, the first three episodes will be released on the release date, but after that episodes will be released weekly until Aug. 18, so stay tuned!
"Barbie"
"Barbie," a live action film, will hit the theaters this summer on July 21, featuring well-known actors Margot Robbie as Barbie and Ryan Gosling as Ken. The movie will follow the story of Barbie and Ken as they escape the fantastical utopia known as Barbieland, provoking Mattel's CEO, Will Ferrell, to chase them in hopes of sending them back to where they came from. Many speculate this movie will be comparable to the notion of "a fish out of water" story sure to bring lots of laughs to audiences.
"Insidious: The Red Door"
Set 10 years after the most recent "Insidious" movie, iconic characters Josh Lambert (Patrick Wilson) and Dalton Lambert (Ty Simpkins) will encounter a series of demonic hauntings and ghost sightings through an ominous door at Dalton's new college. Haunting screens across America beginning on July 7, the terrifying and interesting nature of this movie is sure to leave horror fans on the edge of their seats. So far, it is reported that this movie will bring the series full circle, sharing more intimate and emotional details with viewers that were not featured in the film's predecessors.
"Never Have I Ever" Season 4
As the well known teen drama, "Never Have I Ever," approaches the release of Season 4, its final season, viewers anticipate a heartfelt end to Devi's chaotic and hilarious highschool experience. According to Harper's Bazaar, the show will look back on Devi's past three years of highschool and feature her senior prom, graduation and, of course, a brand new love interest. Season 4 will be available to watch on Netflix beginning June 8, so whether you love or hate Devi's mayhem, be sure to check it out and see how the series will finally conclude.
"Blue Beetle" 
Coming out this summer on Aug. 18, this highly anticipated film will bring a well known DC comic to life. Xolo Maridueña, as college
student Jaime Reyes, will embody the persona of a teen who unknowingly gains the superpowers of an alien blue beetle. Using these powers to protect his family and society, "Blue Beetle" will tell the story of a teen hero that all viewers are sure to love.
"Mission: Impossible—Dead Reckoning, Part One"
On July 12, "Mission: Impossible—Dead Reckoning, Part One" will make its debut in theaters as the seventh movie in the "Mission: Impossible" series. Tom Cruise returns to screens as Ethan Hunt, this time on a dangerous mission to track down a deadly weapon that has the power to influence the fate of society. Whether or not Ethan Hunt will save the day or let the safety of humanity crumble at his very fingertips, this movie is sure to be action packed, keeping viewers guessing until the very end.
Behind the Byline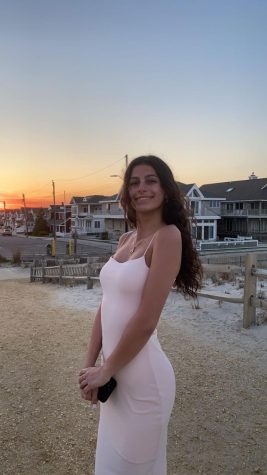 Gabby Angelo, Editor in Chief
Gabrielle Angelo, but you can call her Gabby, is an Editor in Chief for the 2023-2024 Wessex Wire. She enjoys spending time down the shore swimming in the ocean, eating ice cream and watching the sunsets, and loves anything  "The Vampire Diaries" related! On the weekends you can find her hanging out with friends and family making core memories.