West Essex alum taking his love for hockey into his career
The sports industry is immense, and one of the most competitive for both players and coaches. Aron Augustitus, a former West Essex hockey player who graduated in 2014, has entered the professional hockey realm, as a video coach for the Columbus Blue Jackets.
Augustitus' current role includes breaking down footage of other teams ahead on the schedule, looking over his own team's film and even playing a role in the team's replay booth.
"My day-to-day is pre-scouting teams that we're going to play, breaking down any video projects that our coaching staff may have for ourselves," Augustitus said. "If they're curious about a call, I will tell them my opinion and then our assistant coach wears an earpiece on the bench, and he tells the head coach what I think and what our other video coach thinks."
Augustitus played hockey for West Essex, but also refereed some men's and adult games for four years.
"I basically was working all day at the rink. It was busy and hectic," Augustitus said. "It also was hard to get into this industry and make a name for yourself not having played at a very high level, so I had to go a different route."
Augustitus remains in close contact with West Essex hockey coach Marc Gregory, as they developed a rapport from his time playing in high school. Augustitus has worked with him outside of West Essex, helping Gregory coach his club hockey team, the Montclair Blues. 
"I'm impressed; I think it's such a great thing," Gregory said. "He's a really young guy that's moved into a really big-time role at the highest level already, and it sounds like he's really creating a name for himself already and becoming well respected." 
Handling a full-time role on the staff, Augustitus admits, is a lot of work to handle. Despite all of the stress and tension a job like this can induce, he said, he has a deep passion for the sport that makes the job enjoyable. 
"You don't ever just be like 'I'm gonna take a weekend,' we have two games this weekend," Augustitus said. "I don't feel like I'm going to work every day. I literally just feel like I get paid to be at a hockey rink."
While the job can certainly be fun, Augustitus still strives for more. His goal is to further rise up the hockey coaching ranks, though he knows he might have to make adjustments in order to ascend.
"I would say the goal would be to be a head coach in the NHL," Augustitus said. "But I know I'll probably have to take a step back to a different league at a higher position."
Augustitus returned to West Essex on Feb. 3 during a short break aroud the NHL All Star game. Business teacher Andrea Mondadori-Llauget reached out to him to speak to a few of her Sports & Entertainment Marketing classes about his story, including his previous jobs, how he was hired by the Blue Jackets and what his job entails. 
"I wanted to make it so a kid from West Essex who didn't play professional sports can make it to the level I'm at, and can make it to the level of Noah Eagle," Augustitus said, referring to the WE Class of '15 alumnus now broadcasting for NFL Network. "No one really understands what it takes because it's so sought after by so many people—I wanted to make it more accessible to anyone."
Behind the Byline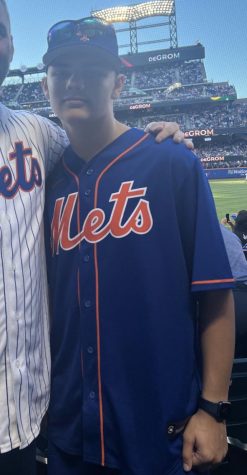 Ryan Conway, Visual Media Editor
Ryan is a Visual Media Editor for the Wessex Wire (Class Of '24) that likes sports and video games. Usually raging about the Mets or Jets, Ryan enjoys bonding with friends and family, and discussing sports with others.