Woodworth travels across the map but will always remain grounded
Some people are made for the office. Some are built for nature. Some are equipped to be surrounded by other people. But it is very rare to find someone that can check every box on the list. With a background in banking, a fervent admiration for camping and over 30 years of teaching, Alan Woodworth is a master at his craft. 
Straight outta Maywood, N.J., Woodworth grew up in a self-described typical suburban household. He spent his childhood with his two sisters and played any sport that would fit into his schedule. He then went on to study geography and geology at the C.W. Post Campus of Long Island University, known now as LIU Post. Without a clear plan for his future, he said, a young Woodworth embarked on his path in the world of banking.
Three short years after attaining his first banking job, he was fully immersed into his occupation and was looking to move forward in the industry. After interviewing for and being offered a higher level banking position out in Pennsylvania, Woodworth realized it was time to take a long, hard look at where this job would take him. 
"As I was driving home, I was thinking to myself, if I accept this job, I'm going to be a banker for life," Woodworth said. "And that just did not sit well. So, I got back to the office the next day and handed in my notice, and I signed up for grad school. I just totally changed the course of my life."
He finally opened his eyes to the fact that he didn't want his entire life to be his career in banking. This position would require not only a move to Pennsylvania but also a long-term commitment to his job, and he decided he had a different vision for his future. 
With a Master's Degree from Fairleigh Dickinson University, Woodworth entered the teaching world and the walls of West Essex High School. He began with US History I CPA and has since expanded to various subjects. Whether his plan calls for evaluating personality traits in psychology, analyzing the events that molded the modern world in AP European History or advising the future economists of our generation in AP Macro/Micro, Woodworth is outside the door of his classroom, greeting his students every day with a smile. 
For the next chapter of his life,     Woodworth didn't need to go too far. Not too long into his West Essex career, he met his wife at the building up the hill. They immediately had a lot in common, both as history teachers and nature enthusiasts. In their many years together, they have traveled to and camped in 48 states, as well as introduced their three children to their outdoor adventures.
"One of the benefits of being a teacher has been having the time during the summer to go out and explore," Woodworth said. "I think one of the most valuable things that students can do is to learn about your own country and get the opportunity to see all of the various states and just see the different cultures, different ways of life and the beauty and size of this country. You can't appreciate that just by looking at a map."
Even after over 30 years in the district, Woodworth's passion never falters. He arrives at school eager to educate students across all grade levels, and you can always count on him to have a detailed slideshow prepared. 
Behind the Byline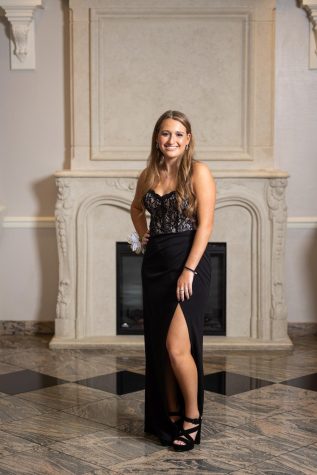 Lindsey Leitner, Managing Editor
Lindsey Leitner is a Managing Editor for the 2022-2023 Wessex Wire.  She enjoys spending time with her family and friends and playing on the school tennis team.  In her free time, she likes to watch Netflix, read, and play with her dog.

Rachel Levine, Editor in Chief
Rachel Levine is a 2022-2023 Editor in chief for the Wessex Wire! She enjoys running, going to the beach, and listening to music. She also loves spending time with her family and friends.