College football playoff results and predictions
The playoffs are underway and LSU will meet Clemson in the championship.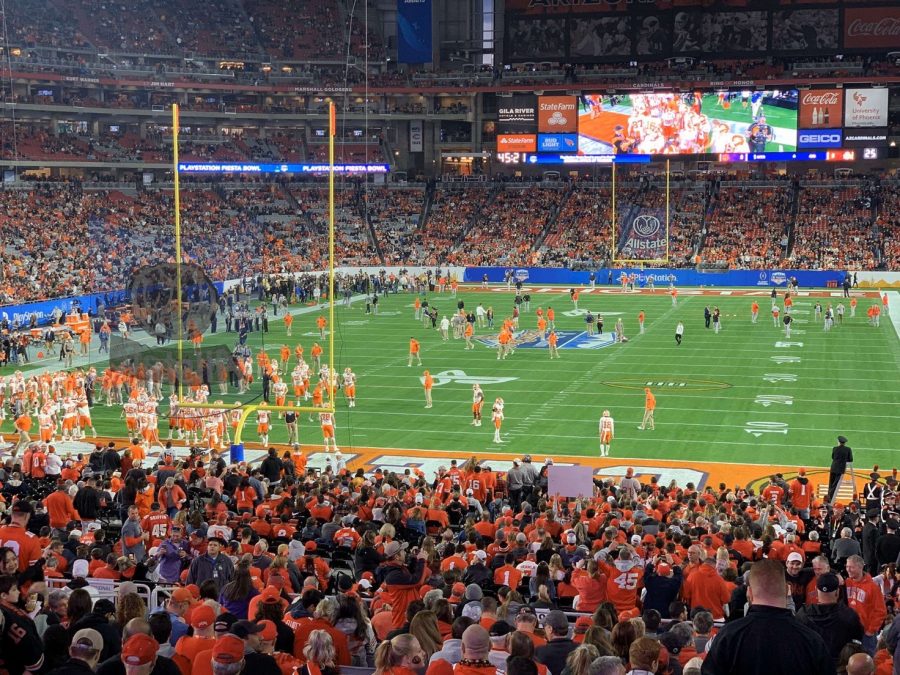 #1 LSU vs. #4 Oklahoma
The high-octane LSU offense lead by Heisman trophy winner Joe Burrow made the Oklahoma Sooners look like a team of peewee football players. The Chick-fil-a Peach Bowl was an emotional game for the Tigers following the passing of offensive coordinator Steve Ensminger's daughter-in-law in a plane crash hours before game time. All emotions were poured onto the field resulting in a 63-28 rout of the No. 4 ranked Oklahoma Sooners. Despite injuries hampering the performance running back Clyde Edwards-Helaire, future first overall pick Joe Burrow still managed to throw eight touchdowns and 515 total yards setting the records for most passing touchdowns in a CFB playoff game (seven) and passing yards in the first half of a CFB playoff game (403). The offensive performance was rounded out with wide receiver Justin Jefferson who set the CFB playoff record with 227 receiving yards and four receiving touchdowns. —PG
#2 OSU vs. #3 Clemson
Coming down to the last drive, Justin Fields was unable to lead The Ohio State Buckeyes past Trevor Lawrence's Clemson Tigers, after throwing a game-sealing interception. I (Curran) was actually at the Playstation Fiesta Bowl in Phoenix, Arizona, and it was one of the best atmospheres for a football game I've ever seen. The Ohio State fans that I was sitting around in my section said it was virtually a home game for them, as in a sea of red, there were only splotches of orange. Clemson scored 21 unanswered points to overcome an early Ohio State lead after the early exit of star Ohio State running back J.K. Dobbins. Along with a controversial targeting call on OSU defensive back Shaun Wade, Clemson benefited from another controversial no-call on a fumble from Justyn Ross that was run back for a touchdown. Ohio State had the chance to win the game, however, when on their final drive Fields threw the game-sealing interception to Nolan Turner. —CR
#1 LSU vs. #3 Clemson
The battle between the LSU Tigers and Clemson Tigers will be one to remember with NFL ready prospects all over the field. Both teams are led by outstanding quarterbacks, Trevor Lawrence and Joe Burrow, so whichever team is able to limit their production the most will come out on top. The stingy Clemson defensive unit lead by linebacker Isaiah Simmons will have its work cut out for them covering LSU's playmakers, Ja'Marr Chase, Justin Jefferson, Terrace Marshall and Thaddeus Moss. Contrast this with LSU, who's defense has warranted most of its questions lead by safety Grant Delpit and cornerback Kristen Fulton will have to stop Clemson balanced air and ground game. LSU is the favorite in this game, and rightly so after utterly destroying Oklahoma in the Peach Bowl. Fans saw a game that revealed who truly is the best team in college football. — PG, CR
Behind the Byline
Paul Gustafson, Lead Multimedia & Social Media Editor (Sports)
Paul is a multimedia and social media editor for the Wessex Wire who enjoys watching "NFL RedZone" on Sundays. He is also the founder and owner of the Drip Gods intramural basketball franchise. Paul has never lost a game of NBA 2K.
Curran Rastogi, Lead Sports Editor
Curran Rastogi is a junior Lead Sports Editor for the Wessex Wire. He plays soccer in the fall, runs track in the winter and plays golf in the fall. He is also known as the rebuild king in the NBA 2K community. He met Devin McCourty in a hotel lobby.