Friend-"chips" made through WE golf season
The West Essex Boys and Girls Golf team, led by head coach John Regan, came off of a record-breaking 16-1 season in 2021 and are trying to continue their legacy at West Essex for 2022. Competing in the American Division in the Super-Essex Conference, which is composed of some of the top-ranked schools in New Jersey, has proven a serious challenge, but the team's strong strong leadership, including senior captain Curran Rastogi and seniors RJay Catanzarite, Phillip Buccino, Jason Calick and AJ Michelotti, has kept their spirits up. 
"As of right now we are below .500 and we're hoping to finish the season off with a bang," senior RJay Catanzarite said. "Our biggest accomplishment this year was competing in the American division of the Super Essex Conference and beating some established programs." 
While the team has pretty big shoes to fill with last season's success, they are making the most of their time left in the season. Recently they competed in the Essex County Tournament on May 3, placing eighth. With a record of 4-8, the Knights only have three regular-season matches left till the end of the season. 
  "We lost some great seniors since last year; however, we are trying our best to follow in their footsteps and compete at a high level," Catanzarite said. The biggest goal for this season is to simply enjoy the game and have fun. Various friendships have been formed throughout the season in different grade levels and from different schools. 
"I really enjoy competing with my friends Corey Resnick and Luke Osur," Catanzarite said. "Also at almost every match, we get to meet golfers from other teams, so that's really cool."
Behind the Byline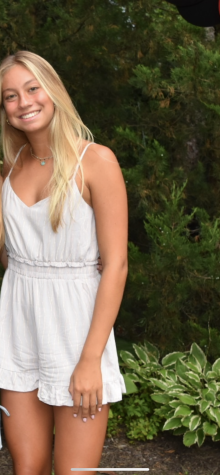 Skye Grimes, Contributor
Skye Grimes is an Apprentice Editor for the 2021-2022 Wessex Wire. She plays soccer for the high school team and on a club team year-round. She enjoys running, lifeguarding at the beach and hanging out with her friends.