West Essex admin team: Despite COVID-19 challenges, 'school is in'
During these unprecedented times dealing with the coronavirus, students are left wondering the fate of their days left at West Essex this school year. As the impact of COVID-19 continues to escalate on a global scale, it is up to administrators to determine what the school's next steps are.
In a Google Meet conference with Wessex Wire editors on March 25, Principal Caesar Diliberto and assistant principals Juliann Hoebee and Kim Westervelt said they were unified in their praise for what students, faculty, staff and entire families were able to create: Just two weeks since students left the physical premises, learning has not ceased at West Essex, but has taken a virtual form.
While class from home has definitely been an adjustment that many students felt unprepared for, the administrators said parents, teachers and students have been working closely and diligently to make the best of the situation.
"Teachers have more than risen to occasion and students crave the instruction," Diliberto said. "The most successful students take ownership and initiative with learning."
"We recognize that the situation is challenging," Westervelt said. "We recognize that virtual learning will not replace face-to-face classroom learning. With that in mind, what's happening so far has been really good. The teachers are working harder than they've ever worked before." 
Moving into Week 3 of complete online instruction, the school has announced adjustments to the district's School Preparedness Plan with aims to move forward in the curriculum: Classes will move into covering new material and teachers will be assigning summative assessments. Additionally, this week cameras on student Chromebooks have been unblocked to make lessons more personalized and interactive.
"It would benefit everyone greatly to be able to see each other," Diliberto said.
Many of the district's decisions for long-term plans are still unconfirmed, they said, given how facts and responses to the spread of COVID-19 can change daily. Administrators were unable to confirm any timetable for when the school might reopen or attempt to reschedule any postponed school events.
"That's more up to the governor at this point," Diliberto said, citing the statistics and figures that place New York and New Jersey as some of the most intense hot spots of COVID-19. "The school is not going to open against the governor's orders. Once the governor deems it OK… then we and the superintendent would have to speak to our local health departments to make sure our specific area is OK."
Many students said they are starting to feel more comfortable with their new virtual learning routines, but many are still uneasy about the cancellation of long-awaited spring events. Prom has already been postponed and there are no guarantees as to what may happen with other events such as the WEFE Fashion Show, Senior Ball and even graduation.
"I feel horrible for students, not just in high school, but literally any age," Diliberto said, referring to the virus' interruption of regular life both in and out of school. "Everybody is making really big sacrifices. … As a school, once we know we can come back in, we will try to reschedule whatever we can. We won't be able to reschedule every single thing that was postponed … [but] no option will be left off the table."
As for the return of spring sports, the school is staying in contact with the Super Essex Conference, administrators said, which will ultimately make any final calls regarding the athletic calendar. 
Not only is the cancellation of these events a let down for the kids excited to enjoy them, the cancellations also come with the loss of very important fundraising for the school. Last year, the WEFE fashion show generated thousands of dollars to pay for educational events that were not within the school's budget. Additionally, the sophomore class Tricky Tray is typically a huge success that raises most of the funds for the junior prom and other class events. While many clubs and groups are looking for ways to fund virtually, the loss of physical events will make it more difficult to raise expected amounts. 
"Students might have to dig into their pockets a little bit more," Diliberto said.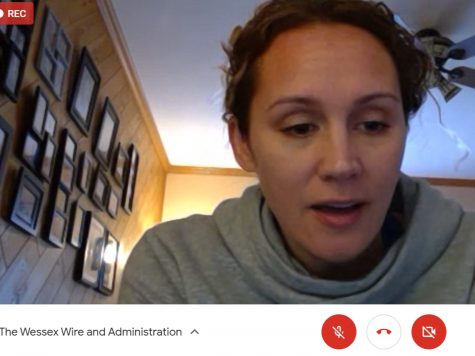 "Advisors for clubs are trying to see if they can retool [fundraisers], see if there's any way they could find another way to run the event at a different time," Hoebee added. "Like Mr. Diliberto said, we're trying to keep all options on the table." 
The West Essex school district has never been faced with a problem of this scope and size, but they are all working together to make tough and crucial decisions. 
With so many questions, confusion and overall anxiety among community members, the administration said that there is also the bright side to look at and positives that can come as a result. Westervelt said the pandemic will make students more resilient to handle situations in life and will give students a deeper appreciation for their community. 
"Resiliency is a really important skill to have in life," Westervelt said. "If students are able to get through this situation and come out of it stronger, then whatever is thrown their way later in life, they will know they have the skills to handle it." 
"A sense of community … I think we've truly learned the foundation of what that means," Hoebee said. "I miss going to school!"
The most important idea Diliberto said he wanted students to know is that they aren't alone throughout this ordeal. 
"It's a little bit of a cliche right now: Everyone says we're in this together, but we are," he said. "West Essex as a community is making it work."
Behind the Byline
Josie Berger, Editor-in-Chief
Josie Berger is a senior at West Essex and is one of the Editors in Chief of the Wessex Wire. She participates in cross country in the fall and is in many other clubs at school. Over the summer, she was a counselor at her sleep away camp. A fun fact about Josie is her favorite food is chocolate.
Danielle Schwartz, Editor-in-Chief


Danielle Schwartz is a senior at West Essex and an Editor-in-Chief for the Wessex Wire. She is also a captain of the tennis team and co-President of SADD. Danielle enjoys flipping through fashion magazines and hanging out with friends in her free time. She loves going to the movies, traveling and listening to music.