Masquers Sends West Essex Back to the 1950s
The Masquers of West Essex brought the musical "Bye Bye Birdie" to North Caldwell, N.J. and it was nothing short of amazing. From the stage set and costume design to the choreography, they truly put their all into this production. "Bye Bye Birdie" is based on a rock and roll star who is drafted into the army. Played by Hudson King, Conrad Birdie gives off an Elvis Presley vibe, wearing flashy outfits and having Presley's signature thick sideburns. 
The opening act started off with Rose Alverez, played by Lexi Ciardella, telling her boss, Albert Peterson, played by Dante Ragusa, to sell his business and become an English teacher. This then leads into the minds of fangirling teenage girls who sleep, eat and breathe Conrad Birdie. As the play goes on, viewers dive deeper into the life of one teenage Conrad Birdie stan. 
On top of this, Josie Monroe channels her inner New York grandmother, making people laugh so hard they could barely see through their tears (I was one of them). All of the actors and actresses sang and danced their hearts out leaving everything on the stage. To add, Lexi Ciardella should take up Salsa dancing as another talent, because she absolutely killed it. 
Director of Masquers, Michael Galioto, and student director, Claudia Marino, could not have put together a better production. With an entire team of talent behind them, "Bye Bye Birdie" was a must-see performance. 
Behind the Byline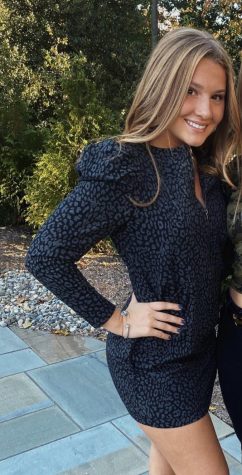 Haleigh Farese, Digital Director & Art Director
Haleigh loves hanging out with her friends, being down the shore, and drinking coffee. Her favorite TV show is "The Vampire Diaries." She's either playing field hockey or going to different places with her friends. Her favorite place to go is Florida.