Spielberg, Blanchett favored to win at Academy Awards
Every year, the most influential superstars gather to walk down the red carpet in extravagant looks, hoping to earn the most prestigious awards for their work. The 95th Academy Awards for artistic and technical merit for the American film industry will be hosted this year on March 12. A total of 24 awards will be presented, including the "Big Five'' categories: Best Picture, Best Director, Best Actor, Best Actress and Best Screenplay. Although there are a multitude of nominees, some stand out more than others as likely winners.  
The competition is fierce, but "Everything Everywhere All at Once" is sure to win for Best Picture. This surprise hit about a Chinese-American family who owns a failing laundromat dominated theaters. At an appointment with an IRS auditor, the main character finds out she is tasked with saving the world by exploring other universes, connecting with the lives she could have led. Although a science fiction movie has never won this award in the past, the film leads with 11 total nominations.
An Oscars category often underappreciated by young movie watchers is Best Director, where fans associate films with their most famous actors rather than the masters responsible for the direction of the film itself. But directors make a movie what it is and this category is filled with geniuses who have produced visually stunning pieces. Best Director will likely go to Steven Spielberg for "The Fablemans," a film that resembles the veteran winner's life, a type of film that the academy tends to reward. This would be his fifth win and eighth nomination for Best Director. Spielberg is one of the most well-known directors, and the only person nominated for Best Director in six different decades. In addition, Steven Spielberg won Best Director at the 2023 Golden Globes for this film, which has historically foreshadowed a win at the Oscars. 
Best Actor is an incredibly esteemed award. It is predicted the award will go to Brendan Fraser for his epic performance in "The Whale." Fraser plays a reclusive English teacher grieving the death of his partner while trying to reconcile with his estranged daughter. Fraser drastically changes his appearance, using prosthetics and CGI to make him look as if he was 600 pounds. If he wins, he will be one of the few people to ever win in the Best Actor category for a non-Best Picture nomination.
The Best Actress category honors female icons for their outstanding performances. It is anticipated that Cate Blanchett will win for her performance in the feature film "Tár," as she holds the Best Actress title from other award shows. Blanchett portrays the first-ever female chief conductor of a major German orchestra in the film. This has been titled as the performance of her career. 
The Best Original Screenplay prize honors the writing of the movie script, being awarded to the film with the best plot. It is likely that "Everything Everywhere All at Once," will win Best Original Screenplay. There is also a chance that the academy will pick "The Banshees of Inisherin" to give the film an opportunity to win an Oscar. This film is about two lifelong friends in Ireland during the Civil War at a crossroads in their relationship. 
To find out if these predictions were right, tune into the Academy Awards on March 12, which will surely be a memorable event.
---
Photo Credit: "Hand holding Oscar award with cinema in background" by Jernej Furman is licensed under (CC BY 2.0)
Behind the Byline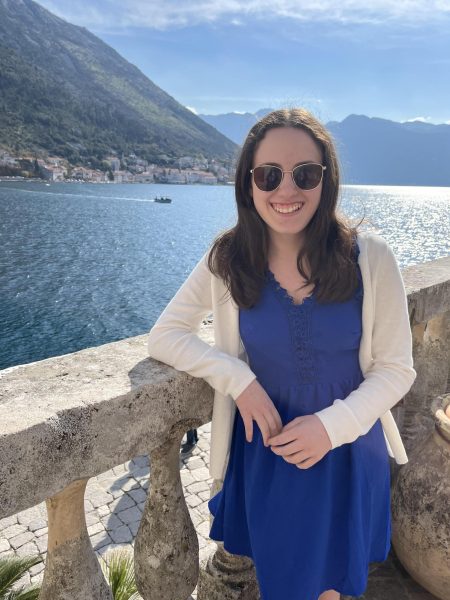 Amanda Ippolito, Arts and Culture Editor
Amanda Ippolito is an Arts and Culture Editor for the Wessex Wire. She enjoys traveling and spending time with her cousins and friends. In her free time she is either listening to music, playing guitar or watching TV. Her favorite singers are Taylor Swift, Zach Bryan, and Luke Combs.