Musk creates chaos within Twitter
Elon Musk completed his $44 billion purchase of Twitter on Oct. 26, after months of broken contracts, indecision and lawsuits. But after the deal was complete, the controversies only amplified in the months that followed as Musk enacted radical new business policies, took hard political stances, made incendiary claims about free speech and fought with critics and advertisers from the moment he took ownership of the company.
The 51-year-old billionaire made waves a few months back when he attempted to back out of his deal with Twitter at a late stage, which initially had a $1 billion penalty. Musk claimed he didn't originally follow through with the deal because of the amount of bots and fake accounts present on Twitter; however, in the court case against him for breaking the deal, some of his personal text messages were brought into question, including ones with him searching for reasons to back out of the deal, making it clear that bots had nothing to do with the situation. Finally, after much involvement from both Musk's and Twitter's lawyers, he went through with the original purchase, taking out $12.5 billion in loans.
According to the New York Times, Musk began "cleaning house" only hours after the deal was finalized. At least four of Twitter's top executives, including the chief executive and chief financial officer, were fired that night.
One of the first tests for Twitter's new management involved their response and control relating to the midterm elections. Before Musk owned the platform, they had promised to prohibit misleading claims, but it was unclear whether Musk would take responsibility for the statement. The concerns proved correct when he didn't censor any comments regarding the politics.
With the continuous stream of controversial posts surfacing on Twitter, many companies worried about their advertisements appearing alongside the tweets in question. Musk himself denounced the use of advertisements on Twitter, telling the New York Times that the company should find their revenue elsewhere.
When being introduced into the Twitter world, Musk had immediately announced his intended changes for the company. Only months later, he has stayed true to his word. Twitter is now a private company, freeing Musk from answering to shareholders, and many employees faced layoffs as a way to cut costs, according to an Oct. 27 New York Times article.
Following his focus on increasing the revenue of Twitter, Musk announced a new policy for paid verification; users could pay $8 per month for a "Twitter Blue" verified account. Previously and on other platforms, verified accounts had been reserved for celebrity users to prove their account was authentic and not an impersonator. Critics said the new policy completely overrode the purpose and beneficial use of verification, turning it into a money-driven opportunity for the company to take advantage of the desirable nature of a verified account and the power surrounding it. The controversial policy launched Nov. 9, then was quietly removed after a series of imposter accounts took advantage of the paid verification to pose as corporate entities. The service returned in December.
With more than 7,000 employees on Twitter's payroll prior to the new management, Musk has already fired at least 2,750 of them, according to the Los Angeles Times. Twitter has repeatedly gone back and forth between warning their employees about potential upcoming layoffs and soothing them by telling them to ignore these rumors.
Musk's involvement in the company has not only made abrupt changes to the platform everyone knows and loves, but it has also made critics question their trust in Twitter. These criticisms have also created the uncertainty that led to Musk's claim to resign from the company. They are unsure of whether or not they can post what they want, and they are concerned that there is more going on behind the scenes than anyone is able to predict.
Behind the Byline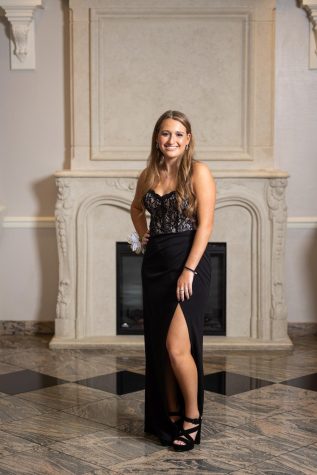 Lindsey Leitner, Managing Editor
Lindsey Leitner is a Managing Editor for the 2022-2023 Wessex Wire.  She enjoys spending time with her family and friends and playing on the school tennis team.  In her free time, she likes to watch Netflix, read, and play with her dog.