Former West Essex graduate to become Navy pilot
Students often wonder where their fellow classmates are heading after graduation. Some play sports, some have prosperous careers and some may never be heard from again. But some, like Antonio Zaccaria, Class of '19, fulfill a lifelong dream: in his case, joining the Navy. 
The pilot-in-training returned to West Essex on Nov. 21 to speak to a few classes, regarding his experiences at the Naval Academy. Zaccaria received news on Nov. 17 that he will become a Navy pilot. After attending West Essex for four years, Zaccaria attended the U.S. Naval Academy in Annapolis, M.D. He studied there extensively, taking three years of classes along with participating in many summer courses and extracurriculars. All of the hard work will culminate in his lifelong dream, which is supporting the U.S. Navy.
Zaccaria said he hoped that he could have an impact in joining the academy. 
"I wanted to just kind of inform the current students there because maybe it opens up to an opportunity for them that they never knew existed," the former wrestler said. "If I can just have one kid, that would be great."
Zaccaria will travel to Pensacola, Fla., to learn how to fly properly for about two years. He said he was eager to begin his work in learning to fly T-6 planes, an aircraft used for basic pilot training, on his quest to become a Navy pilot. 
"I expect a lot of challenges, challenges in both learning to fly, but then also challenges actually leading people," Zaccaria said.
While at the academy, he said, people were always available as mentors and sharing their personal experiences with one another. 
"The people are definitely one of the best things about the academy," Zaccaria said. "You have mentors that you go to left and right, who will develop you every single day."
Zaccaria returned to his alma mater on Nov. 21 to speak about his experiences, and enlighten West Essex students about the Naval Academy and his journey to becoming a Navy pilot. Some teachers that were watching him speak in the library said his story was intriguing.
"I loved every bit of the presentation," history teacher Louis Ferrara said, "There's a lot of students that know about the military but don't know necessarily about the Naval Academy, and I think he did a really good job of explaining the different options that are available for those that are pursuing that path in life." 
He said he was able to take many extracurriculars and summer classes that were enjoyable. It had the experience he yearned for, while offering a plentiful amount of extra activities as well.
"My most fun summer training recently was my aviation careers last summer, when I got to fly the F-18 and fly the helicopters," Zaccaria said. "With all my friends that I made there, I went to four different national parks over in California and San Francisco, places I've never been before."
Zaccaria did not shy away from the idea of losing his life in the army – after all, it's very risky – yet openly welcomed becoming a part of the experience. 
"A lot of people don't think about that," he said. "When we do what we do, you just think about all the good you're doing instead."
Behind the Byline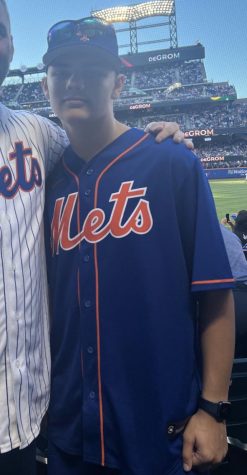 Ryan Conway, Sports Editor
Ryan is a Sports Editor for the Wessex Wire (Class Of '24) that likes sports and video games. Usually raging about the Mets or Jets, Ryan enjoys bonding with friends and family, and discussing sports with others.