Administration implements policies for 2022-23 school year
West Essex introduced new policies in order to maximize student efficiency during class time. These rules, including phone jails, requiring IDs and changes to the absence policy, have quickly elicited a negative response from students.
Because the pandemic changed students and staff members' lives in school for the past two years, administration said they were hesitant to start enforcing these rules. They decided it would ultimately be better to wait until a sense of normalcy returned. This year, they said, was the best time to implement these policies.
PHONE JAILS
The new phone policy, better known to students as the "phone jail," is the new requirement that students must turn in their phones for the duration of each class period. Every student is assigned a number and is required to put their phones in an assigned pocket. 
The administration said the phone policy was implemented  strictly from an academically-driven perspective. Cell phones are a huge distraction to students during class, and this rule encourages students to focus solely on their work. 
"Phone addiction is an addiction to social media, and it's a very real thing," Principal Caesar Diliberto said. "What we are charged with, as an institution, and especially as teachers, is an enormous responsibility. Their job is to educate you, and in doing so, they are asking you to engage in sustained critical thinking for a long period of time."
Teachers have already noticed promising results from the change. Several teachers claim that students have been able to pay more attention in class without this typically ever-present distraction. 
"I think first for the cell phones, feedback from the teachers has already been that students are more engaged in class," Assistant Principal Kimberly Westervelt said. "They're paying attention and they're staying in the classroom, so, already, we see a positive change academically." 
ID BADGES
Beyond the new phone policy, students are required to wear their IDs at all times while at school. If students forget their IDs, they receive an automatic detention. The administration allows for it to be taken away if a parent or guardian can drop it off. 
This new rule is not meant be seen as a punishment, according to administrators. With all of the national spotlight on school safety, this is another way administrators are is trying to ensure safety and protection for students at all times. 
"The detention is just to hold students accountable," Westervelt said. "Students don't want detention, so they'll wear their IDs."
ABSENCE POLICY
The new absence policy has increased the number of absences  a student can have during the year, while also no longer accepting doctor's notes.
West Essex was one of the last schools in Essex County to accept doctor's notes as excused absences, and due to COVID, changing those rules was hard to do in the past two years. For this new school year, West Essex is abiding by the Board of Education's rules. 
"If we allow all these absences, people will take advantage and come up with doctor's notes to get them excused for 30-40 days," Westervelt said. 
It is also more difficult for students to learn the lesson and absorb information about new ideas if they are absent. Trying to make up so many days of school will push that student far behind and hurt them in the long run.Moreover, administrators said, students miss valuable instruction that cannot be explained over email or notes.
"You can never duplicate the lesson that the teacher is teaching at that moment," Assistant Principal Juliann Hoebee said. "When the lesson is being taught, there's lots of conversation that's happening, and lots of things that are evolving inside of the lesson. And if you miss that, and have to try to make it up, it's not exactly the same."
Behind the Byline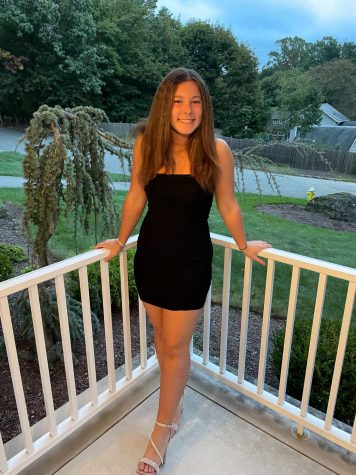 Francesca Loffredo, Senior Chief News and Features Editor
Francesca Loffredo is a Senior Chief News & Features Editor for the 2022-2023 Wessex Wire. She plays tennis and softball for the West Essex team. Francesca loves hanging out with her friends and family, and spending time at the beach.