Letsch brings energy and promise
With her bubbly personality and enthusiastic approach to her job, Guidance Counselor Alyssa Letsch is honored to have received the Governor's Educational Service Professional of the Year award and pleasantly surprised by her colleagues' recognition of her efforts and contributions to the school.
"I was very caught off guard, in a good way," Letsch said. "I love the school, students, administration, parents, faculty and my team, and this feels like home to me."
While moving all over New Jersey growing up, Letsch's relationship with her family was the strongest of all. She has four siblings: a younger sister and brother that are only a few years apart from her and a brother and sister that are much younger. Letsch feels very fortunate to be able to have grown up with such close relationships to all of her siblings and family, even though they moved around a lot and she had to split her time.
Her favorite thing to do growing up was playing and spending time outside.  Whether it was sports, hanging out with her siblings or getting involved in the community, Letsch developed her values of the importance of family and getting back what you put in.
Going on to earn an undergraduate degree in Human Services from the University of Delaware, Letsch worked as a care manager for Care Partners of Morris and Sussex.  This was where she truly discovered her passion for working with people, specifically kids and teens, and helping them with whatever was going on in their lives.
"This got me involved in a lot of different types of life and community resources, and a couple of years later, I went back to school to pursue this," Letsch said.
With a graduate degree in school counseling from Montclair State University, Letsch soon made her way to West Essex. Since members of her family have been counselors, she was influenced by them, but altogether, she wanted to work with children in an academic environment.
Most of all, she loves creating this space in her office in which students feel comfortable, and she could never do it without her team.  Letsch considers the guidance department to be one large family, and she is simply proud that she has been able to bring more to this group.
"I feel like this is an award that, yes, it was given to me and I'm honored, but I believe that it is truly more of a reflection of our team as a whole," Letsch said. "I work with amazing counselors who I learn from every day."
Behind the Byline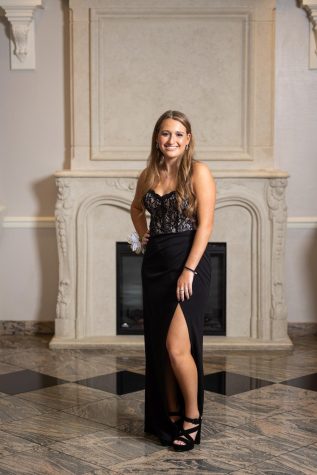 Lindsey Leitner, Managing Editor
Lindsey Leitner is a Managing Editor for the 2022-2023 Wessex Wire.  She enjoys spending time with her family and friends and playing on the school tennis team.  In her free time, she likes to watch Netflix, read, and play with her dog.