Perez's passion comes from her family and community
Taking after her mother and family members before her, English teacher Alicia Perez is proud to see all of her hard work recognized with being named Governor's Educator of the Year.
Perez learned the importance of hard work at a young age from her parents and family.  
"My parents and my whole family are from Spain, so that's a big part of who I am as an individual," Perez said.  "I'm very proud of my Spanish heritage."
She spoke Spanish fluently and entirely at home, following her family from Northern Spain with their Gallego dialect. Given her family dynamic, large gatherings, special holidays and big celebrations were common.
"I often say it's very similar to what you see in some of those movies with Italian families or even Greek families," Perez said.  "It's like in 'My Big Fat Greek Wedding' where everybody needs to know what's going on with everybody."
Growing up in a fairly strict household in Newark, Perez always made school a top priority, since her parents fought to give her and her sister such opportunities. Her older sister had been an overachiever, she says, and she would go on to become a doctor; Perez always felt as if she had big shoes to fill.  While double majoring in English and secondary education at Seton Hall University, along with student teaching, she was under the impression that becoming a lawyer would fit in better with the success of her sister. She worked at a law firm in Short Hills throughout college, but soon realized that teaching called to her, which was more important.
Graduating early and substituting for a teacher on maternity leave, Perez taught for six months at West Morris High School in Chester. However, she then decided to return to school at Boston College for her master's degree in English.  She wanted to focus her effort on becoming an expert in her subject area.
After graduating from Boston College, Perez got her current position at West Essex, but this eventually turned into so much more.  Over the course of her teaching career, she continued to take on additional responsibilities and duties; while she's known now as an English III teacher, she's taught multiple grade levels, and has become a founding adviser for the WEuKNIGHT peer leader program and the Multicultural Club, as well as a co-adviser for National English Honor Society. 
"I love all these opportunities because they give me the chance to get to know students at a different level," Perez said.  "You might have someone that maybe isn't the straight AP student in your class, but that person might shine in a different setting.  It's made me a better teacher, this ability to see the different learning styles and skill sets."
At some point obtaining her second master's in educational leadership at Montclair State University, her main goal is to be involved in what she is passionate about.  Her participation in so many activities allows her to get to know her students at a more personal level.  She has also gained more knowledge herself, finally realizing the importance of dividing up work because everyone has a different skill set.
"I think what I was trying to do was give myself the opportunity because I do eventually want to move forward in my career, but I also want to leave my options open," Perez said.
Looking up to her mother and best friend, Perez values family more than anything.  Her mother is her rock.
"I'm a mama's girl," Perez said.  "She has always been my support through a lot of things that have been challenging."
Although her and her father argue due to how similar they are, she still appreciates their relationship.  This became even more apparent during his struggle with COVID-19 in spring 2020.  With her father very sick and in the hospital, Perez also found comfort in the constant distraction that her job and students provided.  She did not allow this personal setback to alter her professional workload.
Further demonstrating her determination to improve, in 2017, Perez decided to return part time to Columbia University's teacher's college program for her doctoral degree.  Now in the final stages of her degree, she continues to bring more to the table, and West Essex knows it.  Even with as much as she contributes, Perez was still shocked and touched that her colleagues recognized her hard work and nominated her for the award, and even teared up when talking about it.
Her dedication to the school shows through in her genuine enjoyment of the fast-paced, ever-changing school day.  COVID made it clear how social classroom interactions improve her day, she said, adding she's thankful for the privilege of watching her upperclassmen students grow into impressive adults and keeping in touch with them after graduation.
Perez attempts to model her teaching style after the way she chooses to live her life.  She values honesty and empathy more than anything. She accepts late assignments but does not tolerate excuses from students, and she always tries to calm herself down and put herself in their shoes.  Arguably, the best aspect of this style is her decision to never hold a grudge.  She understands that mistakes are common, and no matter what, people deserve another chance.
"I believe that the way for students to learn things is to be allowed to make mistakes and learn from them," Perez said.
Along with all of her values, Perez also focuses on her own qualities and how they impact others.  In her opinion, her best trait is her consistency.  No matter what is going on in her personal life or at school, she has always tried and done whatever possible to contribute.  This is clearly proven through her copious efforts, advisor positions and committee memberships and participation.
"If I had to pinpoint something, it would be my consistency, no matter what we are going through as a district," Perez said.  "I'm not saying I'm always perfect, but I have always tried to be consistently, heavily involved in whatever is going on."
Behind the Byline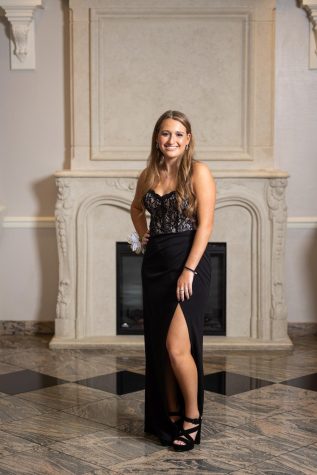 Lindsey Leitner, Managing Editor
Lindsey Leitner is a Managing Editor for the 2022-2023 Wessex Wire.  She enjoys spending time with her family and friends and playing on the school tennis team.  In her free time, she likes to watch Netflix, read, and play with her dog.