Teacher feature: Colucci pushes for students' success
From day one, Gary Colucci strived in history and hoped to someday end up in the teaching field. He says connections with his students are one of his main priorities, and calls himself their biggest fan on their journey to success. 
"I just enjoy the everyday interactions that we have," Colucci said. "The excitement when kids do well, seeing them start to understand topics and just seeing everyone's success."
He started his academic journey as an honors high school student. He went on to Rutgers University, where he majored in history. He started off his teaching career in the five year teachers program, and ended with a major in education. For a while he had been bouncing around a few teaching positions, ranging from middle school teacher to school administrator. 
"I decided to come back to the classroom," Colucci said. "And that's when they came to my senses."
Originally, Colucci was a CPA teacher, but eventually expanded his teaching portfolio to start teaching AP U.S. History. The stress level of handling APUSH classes is much higher, he said, so he had to adapt to that level of teaching and workload. Students who typically did well academically in the past often found themselves struggling on the AP level and needed to go to him for advice. 
"It's definitely more rigorous – there's more assessments, definitely more writing," Colucci said. "Dealing with the stress that students put on themselves to perform."
No matter where they are in their academic lives, Colucci said, he loves the students at West Essex and is always there to support them. He remembers his students that he had years ago, and tries to stay in touch as much as possible. He had students who went to almost every ivy league school, all except Harvard and Brown. 
"My first students that I had in my statistics class are all getting their college acceptances," Colucci said. " I remember you, when you were a sophomore, now you're going off to college doing great things."
Outside of the classroom, Colucci is a family man and loves to spend time with his wife and children. Having a job as an APUSH teacher means that there's always something on his plate, but he's always made time for his family and outside hobbies. Outside of teaching, Colucci  also coached multiple sports in his lifetime including soccer, baseball and track. 
"I was an assistant varsity coach and a head coach for a while and I played in high school so it's always kind of like giving back," Colucci said. "My coaches spent the time with me to provide me with those opportunities." 
No matter what obstacles came in his way, Colucci said, he's always made his students his number one priority. They will always be his favorite part of teaching, and he hopes to connect with more students each year.
"I enjoy students," Colucci said. "I don't understand how you would want to be a teacher if you don't enjoy them."
Behind the Byline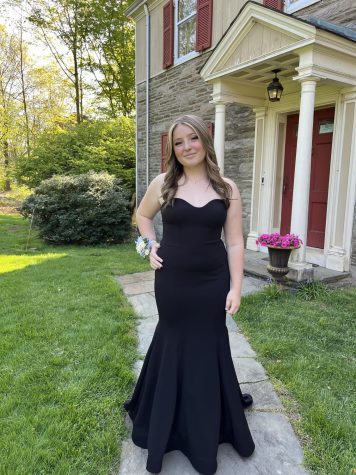 Sophia Nicholls, Arts & Culture Editor
Sophia Nicholls is a 2023-2024 Senior Chief Arts and Culture Editor for the Wessex Wire. She likes to spend time with her friends and family. Her favorite artist's are Harry Styles and Taylor Swift, and her favorite show is "Pretty Little Liars".