Top 5 Celebrity Breakups 2021
Celebrities are always in the media, but when it comes to relationships and breakups, the spotlight is on them more then ever. Throughout the years, some of the worlds most adored couples have called it quits, but this year definitely takes the cake. Here are this years top 5 celebrity breakups.
Kim Kardashian and Kanye West (January) : After years of enduring her stressful marriage, Kim Kardashian has finally had enough of Kanye West. Despite the fact that he is a great father to their children, his moving around constantly has taken a toll on both the kids and Kim. She is starting to feel more like a single mother, and is tired of not being happy. She blames herself for the failed marriage, and has been dealing with a mix of frustration, sadness, and anger. She doesn't feel like she can support him as much as she used to be able too, and says he deserves someone who can support him through everything he does. Before the divorce, it's reported that they got into a heated argument, which Kim never really healed from.
Shawn Mendes and Camila Cabello (November) : After their two year long relationship, Shawn and Camila have decided to call it quits. Despite the rekindling of their relationship over quarantine, their hectic schedules have gotten in the way of their romance. Another big factor in their breakup was the media publicity. They have both received very negative feedback from both fans and outside sources, which Camila has admitted to it being very challenging. They shared their breakup on social media, stating how they used to be best friends, and will continue to be moving forward. More insight was provided from the release of Shawn's new song "It'll be Okay". It dives into their thoughts on potentially getting married, but since they couldn't make it work, their future has now faded to black.
Zayn Malik and Gigi Hadid (January) : As of this year, Zayn and Gigi have ended their on and off six year relationship. Despite the fact that they had their ups and downs, they loved each other unconditionally for years. They had their daughter, Khai, in 2020, and had been publicly together ever since. They recently have announced their decision to co-parent, meaning they had split up. This was due to an alleged fight between Gigi's mom Yolanda and Zayn. Zayn states that Yolanda was taking too much control over Khai, and that supposedly let to a heated argument. Yolanda accused Zayn of striking her, but Gigi was not present to confirm nor deny these allegations. Zayn has denied them, and wishes to support and parent Khai no matter where him and Gigi stand.
Liam Payne and Maya Henry (February) : Years after his One Direction departure, Liam Payne's alcohol addiction has come back and affected his relationship. After his 10-month engagement with Maya Henry, they have both decided to call it quits. Liam spoke out on how he needed work on maintaining his relationships and needed time to focus on himself. He doesn't want to hurt her, and needs time to rebuild himself before he can return to a relationship. He is working on fixing his alcohol problem and is currently in recovery. After this split, there are rumors of them rekindling their relationship, but nothing has been confirmed by either of them.
Jacob Elordi and Kaia Gerber (November) : Jacob and Kaia's year-long relationship has finally come to an end, and apparently it was expected. They made their relationship debut on the red carpet last year, and have publicly shown their love for each other ever since. According to inside sources, their schedules were beginning to conflict and they weren't spending enough time together. The breakup had been expected by both parties for a little while now, and they didn't end badly. There are no hard feelings between the two and they are officially still on speaking terms with each other.
Behind the Byline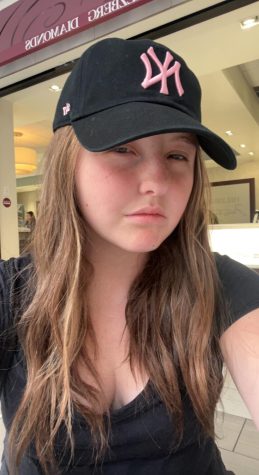 Sophia Nicholls, Arts & Culture Editor
Sophia Nicholls is a 2022-2023 Arts and Culture Section Editor for the Wessex Wire. She plays softball and likes to spend time with her friends and family. Her favorite artist's are Harry Styles and Taylor Swift, and her favorite show is "Pretty Little Liars".