Faith drives beloved music teacher to bid farewell
"It has been my tradition to stand with a little sign by the door that says 'Welcome to the best class of the day." 
Over her 26 years of teaching and more than two decades at West Essex, choir director Donna Mateyka has flashed a contagious smile and an outstretched arm to each of her students daily, greeting them before her performing arts classes begin — to many students' best class of the day. As of Nov. 1, she's moving on from teaching and beginning a new chapter of her life in retirement. 
While Mateyka said she did have a feeling that the teaching portion of her life would be coming to an end soon, she didn't imagine it would be this quick. By her own account, it all changed suddenly with a premonition and a feeling mere weeks before the start of the 2021-2022 school year. 
"I woke up… and I literally felt like God was telling me it was time to go," Mateyka said.
Religion and faith impact all aspects of Mateyka's life. God guides her in how she lives and the actions she chooses to take, she said, so it made sense to her that a big decision like this one would come from that higher power. She believed then — and still does now — that if she listens and pays attention, everything will work out.
Along with faith, another motivator that Mateyka credits for her inspiration to work hard in her teaching career is the sensation of recognizing and nurturing her students as performers. 
"The most exciting thing about being a teacher is having the ability to look at a student and see they're gifted in something they don't even know they're gifted in yet," she said. 
Her students recognize and appreciate the hard work she has put into teaching, and they recognize the immense impact she made on their lives. 
"Mrs. Mateyka made choir the best class of the day," sophomore Hailey Levenberg said. "She really helped us find our potential."
"She is filled with 'Mateyka madness,'" junior Colin Cummings said. "but she is lovable. Her jokes always put a smile on our faces."
Mateyka realizes her students may not continue music beyond high school choir, but she hopes her class has allowed them to begin learning who they are. Along with teaching about notes, time signatures and keys, Mateyka prides herself on including life lessons during her classes, so hopefully her students walk out of her classroom with more information about the world than what they walked in knowing. 
Not only has she taught lessons to her students, but they have also taught her many in return over the years. 
"As much as I teach my students, they teach me," Mateyka said. "You never stop learning."
Even as Mateyka makes plans for how she is going to fill her days in retirement, she hopes to keep up that mentality of constant learning. She has already begun writing a book for mothers with young children, and she plans on using her retirement to find the extra time she needs to finish and publish it. She hopes to continue working with kids even as she stops teaching, and is planning to get more involved with her church.  She is also co-leading a ministry to mentor mothers with school-aged children. 
Mateyka reflects on all the time she has spent devoting her life to bettering the lives of students at West Essex, and she looks back with a smile.
Behind the Byline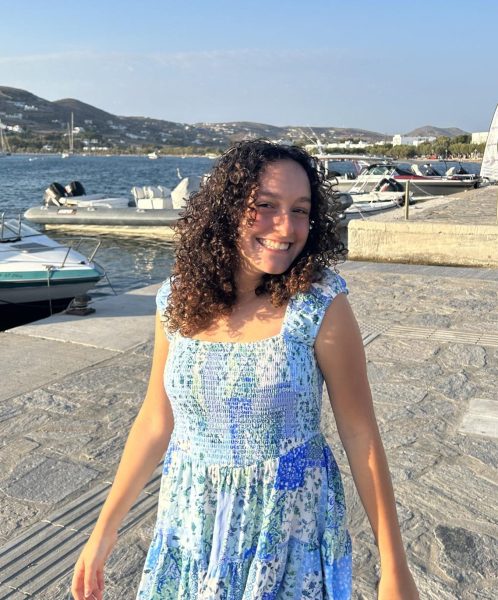 Eliana Rosen, Editor in Chief
Eliana Rosen is an Editor in Chief of the 2023-2024 Wessex Wire. When she isn't spending time with friends and family, she is probably listening to Taylor Swift and Noah Kahan on repeat. She spends her summers at Camp Ramah in the Poconos, her home away from home.