Fashion forecast: Knit looks, chunky chains and more
New year, new fashion. 2020 definitely brought us one good thing, unique fashion trends. From pleated skirts to layered clothing, a lot of "vintage" fashion trends were revived throughout the year. As we step into 2021, here's what we expect to see in style:
More Velour
The most popular fabric of this year will definitely be velvet. Mainly worn in the early 2000's, velvet separates are a cute and unique way to spice up your wardrobe. Velvet is already conquering the catwalks and many pieces are already becoming best sellers in stores. Although it is generally elegant and luxurious, velvet can also be styled into a casual and comfortable look. From tracksuits to dresses, there are a ton of ways to add some velour in your style. 
Oversized Everything
From sweaters, to jeans, to t-shirts, oversized is the hottest trend right now. Everyone loves a comfortable yet chic trend which the oversized look is perfect for. You're able to look presentable and stylish while still staying cozy. Since quarantine has made the desire for getting dressed up a whole lot harder, throwing on an oversized sweater or t-shirt is the perfect solution and allows you to be comfortable and trendy at the same time.   
Chunky Chains
Previously popular in the '80s, chunky necklaces are making a comeback. Delicate necklaces are out the door and layered chains are becoming the newest accessory trend. These can be styled in many different ways, usually worn stacked with a smaller necklace, or simply worn on its own. Statement necklaces are not a new trend, however, they're always a good way to add a shiny touch to any outfit. 
Terrestrial Tones
Since we can't go outdoors as much anymore, people are embracing their desire for nature by incorporating warm, earthy tones into their wardrobe. Brown, sage green and white are the colors of the upcoming season. 2020 had a lot of colorful and bright fashion trends, but 2021 will be the year of neutrals. 
Knit Tops
"Dad fashion" is totally in this season. Sweater vests, baggy sweaters and knitted pieces are becoming the latest obsession. Knitted tops add a touch of chic coziness to any outfit. Whether layering the top over a long sleeve turtleneck or just wearing them traditionally, there are many ways to tackle this new trend. 
Business Casual
This year, professional attire is in. Oversized blazers, platform boots and pleated pants are becoming the biggest trends of the season. Pairing any of these pieces with a more casual outfit can easily spice up your look and give you more of a sophisticated appearance. 
Small Sunglasses
Sure, they may not be practical, but small sunglasses are on the rise. Adding these to any outfit adds a pop of high-fashion and a unique touch. Although they don't offer any true protection from the sun, these glasses bring a vintage '90s vibe with you wherever you go. 
Totally Tote (bags)
They're practical, they're stylish and they're good for the environment. Tote bags are the newest purse trend, and the public loves them. With everything we have to carry with us lately (masks, hand sanitizer, etc.) totes are the perfect bag for this year. 
Chunky Boots
Chunky boots, without a doubt, are going to be one of the biggest shoe trends of this year. Dr. Marten's have become one of the most essential accessories in many closets. These boots rose to fame in the middle of last winter and they're not going away anytime soon. 
Behind the Byline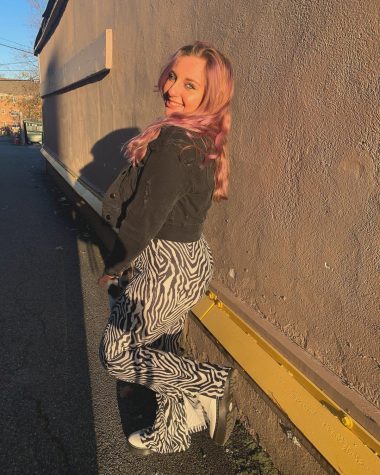 Ally Uhlendorf, Lead Features Editor
Ally is a lead features editor for the 2020-2021 Wessex Wire staff. She has a love for writing and reporting, especially in Features and Arts & Culture. In her free time, she is either singing, listening to Harry Styles, or hanging with her friends. Fun fact: If you get her a caramel iced coffee from Dunkin she will love you forever.