Catch up on what kept us entertained in quarantine
Even through all of the uncertainty of the coronavirus pandemic, the entertainment industry never failed to continue producing amusing movies and television shows. Here are some fan favorites that made the countless hours stuck at home a bit more exciting. 
"Outer Banks" on Netflix
This Netflix Original is most memorable for its attractive cast and similarities to '80s classic "The Goonies." By combining the forces of the affluent Kooks and the frivolous Pogues, viewers experience a riveting treasure hunt and murder mystery. "Outer Banks" had audiences so hooked with the first ten episodes, that it was announced only three months after the premiere that a second season is in the works!
"Little Fires Everywhere" on Hulu
Starting on Mar. 18 and continuing every Wednesday for seven more weeks, Hulu graced us with the enthralling mini series starring well renowned actresses such as Reese Witherspoon and Kerry Washington. The series is based on Celeste Ng's best selling novel,"Little Fires Everywhere." With authentic acting and a fascinating plot filled with twists and turns, this show will leave you wanting more! 
"Tiger King" on Netflix
This compelling documentary series explores the bizarre and chaotic livelihoods of two zookeepers of tigers and lions. Carole Baskin and Joe Exotic's eccentric personalities accompanied by the murderer story woven into the series created the perfect blend of shock value to keep audiences intrigued during quarantine. 
"Hamilton" on Disney Plus
One industry that definitely took a hard hit from the pandemic is Broadway, considering all Broadway shows have been cancelled through Jan. 3, 2021. As a result, Disney Plus made the brilliant decision to produce a filmed version of "Hamilton", starring the original cast, including Lin Manuel Miranda, the genius behind the production. The brilliant collaboration of American history and upbeat rap music is a production everyone should get to see, and Disney Plus has finally made this possible. 
"Defending Jacob" on Apple TV
Based on the 2012 novel "Defending Jacob", Apple TV transformed the book into a thrilling eight episode mini series. "Defending Jacob" dives into the trials and tribulations of murder accusations towards teenage boy, Jacob Barber. This series is essentially a gripping 'Who done it?' story illustrating the rollercoaster of emotions Jacob and his parents feel during this journey. If you love intense court scenes and murder mysteries, "Defending Jacob" is a must watch!
Behind the Byline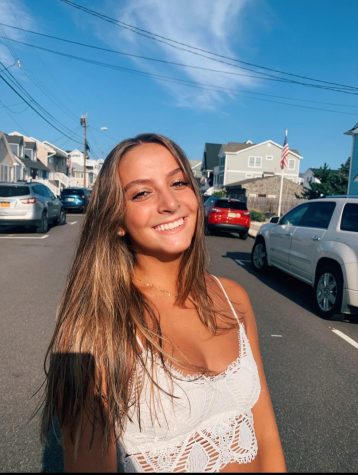 Isabelle Farina, Art Director and Advertising Editor
Isabelle Farina is the Art Director and Advertising Editor for the 2020-2021 Wessex Wire. When she is not dancing she is hanging out with her friends. She loves her dogs and the beach. She prefers to go by Izzy.