President Trump tests positive for COVID-19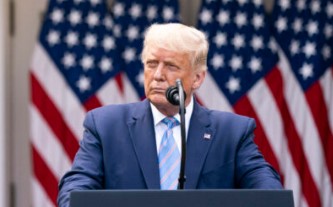 After Hope Hicks, President Trump's communications director tested positive for COVID-19 on Thursday night, the health status of many White House officials were in jeopardy. Hours later, Trump and his wife Melania, revealed they too, tested positive for Coronavirus. Over the weekend, more than 10 White House officials in his circle contracted the virus as well, according to reports from The Guardian. 
As many Americans worried for the future of the president's health and the economy, he released a pre-recorded announcement explaining that he will be going to Walter Reed Medical Center. In this video, he said he was feeling fine, but wanted to take precautionary measures. Doctors said he felt fatigued, had a fever and had reduced blood oxygen levels at times, but other than that his symptoms were not too extreme. 
Over the weekend, Trump posted a series of videos reassuring supporters that he is recovering quickly. Come Sunday, he was spotted in a vehicle outside of Walter Reed to greet his supporters as they cheered him on. Many Americans and doctors criticized the president for the drive outside of the hospital, seen as a disregard of safety protocol that possibly infected others with COVID-19. 
Trump was discharged from Walter Reed on Monday and returned to the White House, where he will continue his treatment. Doctors said Trump is still "not out of the woods" quite yet, according to The New York Times. Trump said he "gets it," regarding COVID-19, but critics have called the situation ironic since the president has continually downplayed the virus and questioned traditional safety protocols like mask-wearing since March.