Wildfires ravage west due to Earth's rising temps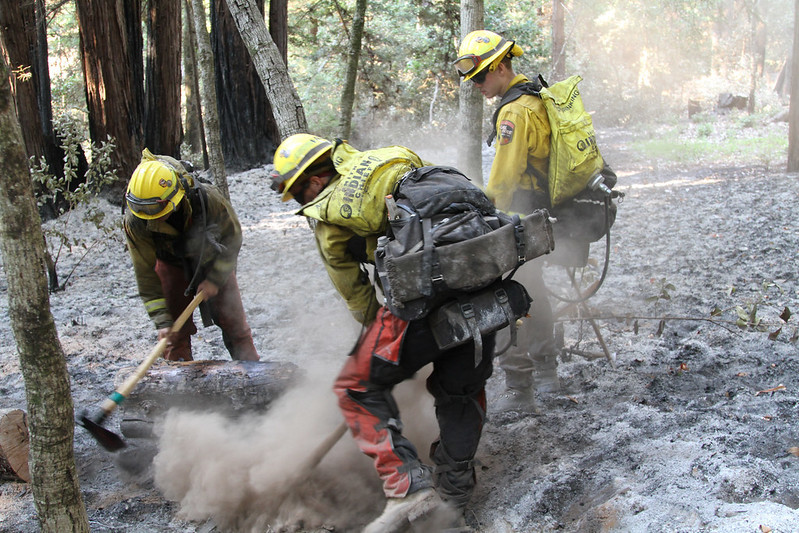 As wildfires rip through the nation's west, mass amounts of smoke and debris cloud the atmosphere and pose a giant threat to humanity. Wildfires have engulfed mainly western states such as California, Washington and Oregon in worsening flames for much of this year's wildfire season. 
According to the California Daily Wildfire Report by CalFire, more than 3.6 million acres of land has burned in California alone since the beginning of the year and that number increases daily. Last year, the number of wildfires in California were significantly less; the report indicated that in just one year there was an approximate 1,000 percent increase in fires and 1 million increase in acres burned. Wildfire season has been extended through December as the temperatures are still high and the air is still dry. More damage from wildfires is being done now than ever before. 
Eastern states are quickly seeing long-term effects of the fires as they worsen. The overbearing smoke from the western fires rapidly traveled to the East coast through the jet stream leading to changes in both sun visibility and weather. Residents reported a hazy and dim sunrise on Sept. 14, and days after, due to the smoke in the atmosphere. Although there was smoke seen on the east, none of it was ground level so it did not pose any immediate health hazards. An unseasonable cold front with temperatures in the '60s passed through New Jersey last week, and this immediate change in summertime weather can be linked to the wildfire smoke in the atmosphere. 
The Earth is experiencing catastrophic damage due to these fires. With 26 people dead and over 7,000 structures destroyed in California alone since just Aug. 15, these fires burn our hearts as much as they do land. Thousands of western residents are fleeing fires because of the uncertainties that the toxic smoke and blazing flames bring. People nationwide sympathize with those who are caught in the middle of this natural disaster and environmental crisis; many are making monetary and food donations to help bring relief in any way. The American Red Cross and the California Community Foundation Wildfire Relief Fund are two popular donation outlets. 
These worsening fires serve as a stark reminder of the real danger Earth's climate crisis poses. The Earth's dangerously high temperatures cause heat waves making conditions where wildfires will thrive. Low precipitation levels keep the ground dry and the humidity low, so when a small spark hits, fire will grow quickly and vigorously. Wildfire seasons will continue to grow, critics warn, as the Earth's climate warms. 
---
Photo credit: "California National Guard" by the National Guard (flickr.com/photos/thenationalguard/50302037981)
Behind the Byline
Alessia Contuzzi, News Editor
Alessia is an energetic News Section Editor for the Wessex Wire. When she's not making her friends and family laugh, you can find her either watching Hallmark Christmas movies or eating. She loves her dog Leo, summers in LBI and Christmas. Fun fact: she's allergic to peanuts, tree nuts and sesame seeds.