West Essex is staying active during lockdown
Fitness lovers and fitness newbies find one activity to keep busy during quarantine: working out. Find out how students and teachers are staying active during this time.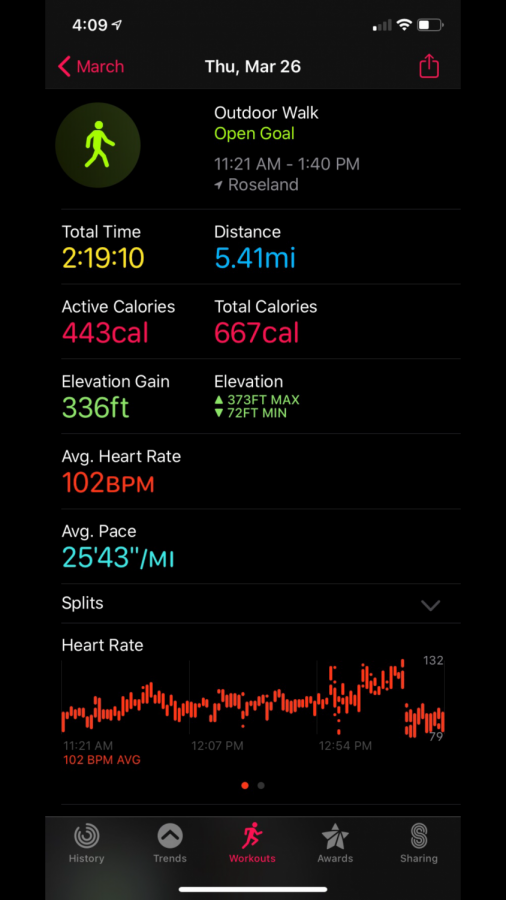 By Gia Arrowood, Social Media and Advertising Editor and Features Editor
May 6, 2020
Baking, DIY projects, binging netflix shows and taking daily walks are just a few ways people have been occupying themselves during this time in lockdown. Due to the circumstances of the recent Coronavirus outbreak, New Jersey and the 49 other states have been placed in lockdown for an indefinite amount of time. While schools, work, leisure places and activities have been shut down for the safety of citizens, how are fitness lovers at West Essex keeping up with their regime?
AP U.S. History teacher Caroline Blanchard and Algebra I and Precalc teacher Jeanette Mackesy have been taking this time to work on their fitness together to ensure they are both staying on top of the hard work. They both said it is incredibly important to have someone to help motivate you.
"Having the time set aside first thing every morning has prevented me from getting lazy. Knowing Mrs. Mackesey will be waiting for me ensures that I don't sleep in and skip a day," Blanchard said. 
"There have been several mornings where I would feel so tired and that I could sleep for another 2 hours, but I think about Mrs. Blanchard getting out of bed and online waiting for me and I know I can't leave her hanging" Mackesy said. 
Both teachers express how their fitness regime has helped pass time during quarantine and gives them some sort of routine and structure they may have lost during this chaotic time. 
"Working out, especially in the morning, helps set a positive tone for the day which leads you to the next right decision," Blanchard said. 
"Making sure I move throughout the day has helped me fall asleep better at night. Also, going for walks either by myself or with my parents is another fun way of staying active and passing time" Mackesy said. 
Staying active during this time has had such positive effects on both teachers. With motivation, anybody is able to keep up with being active, although the circumstances may not be ideal.
Students have also been using quarantine to stay active. With fall sports coming up, and gyms and training facilities closed, athletes, and students who just want to catch up on working out have been using this time. 
"I have been staying active during quarantine to make sure I keep up with what I was doing prior to it. I go on daily walks with my mom, having someone with me gives me motivation and somebody to talk to, which is really nice" junior Joella Valeriani said. 
In preparation for an anticipated fall season, athletes are making sure to stay on top of their fitness to get in shape for their sports. 
"I am doing a short workout in the morning, and then a long workout before bed each night," sophomore Field Hockey player Cait Lutz said. "I also wake up every morning at a reasonable time and make sure to eat healthy" 
Behind the Byline
Gia Arrowood, Digital and Multimedia Director
Gia Arrowood is the Digital and Multimedia Director for the 2020-2021 Wessex Wire. In her free time she likes hanging out with her friends, shopping, and binge watching "Gossip Girl" on Netflix.