TikTok fashion that you can do at home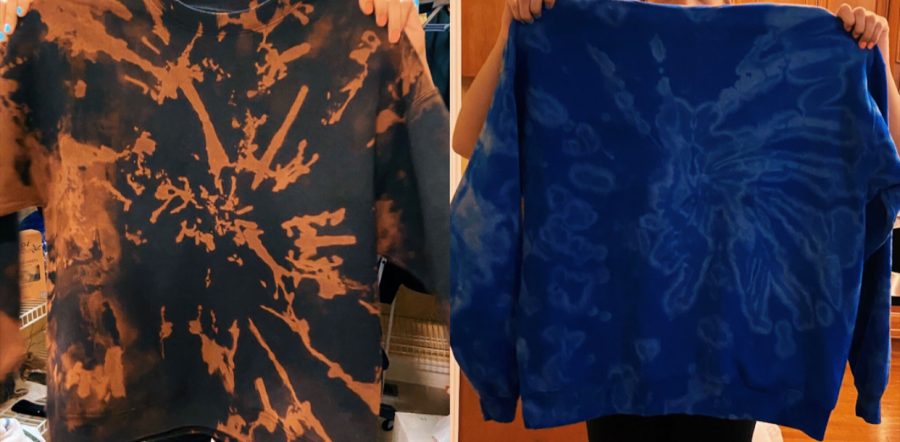 Tie-dye sweats are officially the "look" of quarantine. Tiktok has sparked a trend of taking old clothes, rubberbands, toilet bowl cleaners, bleach, whatever they have and customizing new outfits. People are so obsessed with tie-dying their clothes that it's becoming the hottest quarantine pastime and fashion trend.
The tie-dye trend is offering your same everyday stay at home looks a chance for a stylish yet comfortable glow up. All you need is a couple of rubber bands, a spray bottle of bleach (or even toilet bowl cleaner containing bleach) and your sweats. Tiktok is a tie-dye treasure trove on its own right, with tons of tutorials that show users different techniques and supplies to achieve patterns or effects. The bleach comes out best on black, and the amount of black and bleach sweatshirts all over social media is insane. People have even decided to bleach their jeans.
One of the most used trends is the one leg bleached jeans. You take one leg of the jeans and fold it up, then cover it with a plastic bag. Wet the jeans and go in with the bleach. It's so easy that everyone is doing. People are even making stencils and creating patterns such as stars and lightning bolts. When doing this, make sure to either do it outside or keep the clothes in the bathtub or sink so the bleach doesn't touch anything it's not supposed to.
"When I first saw the trend on TikTok, I knew I was able to do it," senior Devyn Debellis said. "I only did a few sweatshirts at first but, then they came out good so I kept bleaching more. Honestly, it was the most fun I've had all of quarantine."
Purchasing a tie-dye kit and transforming an otherwise plain outfit into a random masterpiece is even the next best way to unwind and find joy while stuck at home. The process of creating the vibrant print isn't anything new, but the nostalgia factors of tie-dying, plus the ease and ability to find tutorials online, are making it a popular activity. With everyone spending their days at home, creativity and boredom have led to one of the hottest trends on TikTok so far.
While the pattern isn't everyone's taste, DIY renditions of styles are helping people relax, stay occupied and feel creative. Therefore, it's unlikely that the print will be disappearing anytime soon – until tie-dye kits are sold out on Amazon, that is. Looks like scrolling through TikTok videos can lead to some productivity after all.
Behind the Byline
Giuliana Calix, Arts & Culture Editor
Giuliana Calix is the 2019-2020 Arts & Culture editor for The Wessex Wire. She is a competitive dancer and when she is not dancing she is either on her phone, eating, or in the shower. She is a 4 foot 11 inch girl who loves sushi and has an obsession with slime videos.