iHeartRadio living room concert raises money and awareness for COVID-19 efforts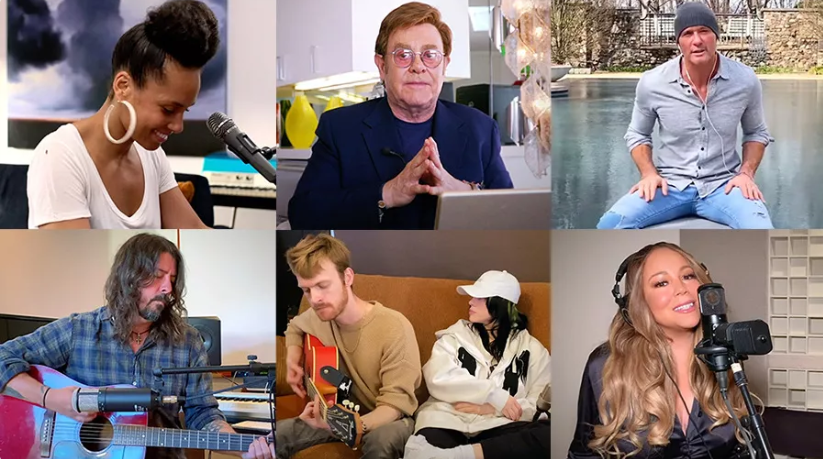 In the midst of the Coronavirus pandemic, many artists and performers have been streaming online concerts to their fans under quarentine across the nation and around the world. On Sunday March 30, iHeartRadio aired a living room concert for America on Fox, hosted by Elton John, raising $10 million in efforts of offering COVID-19 relief. 
Many artists performed on Sunday night including Alicia Keys, Sam Smith, Billie Eilish, Camila Cabello and The Backstreet Boys. Others such as Lady Gaga and Lizzo didn't perform but still tuned in to share kind words with viewers about continuing to push through this difficult time and encouraging social distancing. 
Along with entertaining their viewers, iHeartRadio also encouraged both performers and viewers to donate to their benefiting charities, Feeding America and First Responders Children's Foundation. The concert also included real footage from hospitals treating COVID-19 patients, featuring doctors, nurses, first responders and even a singing orthopedic surgeon, Dr. Elvis L. Francois, performing a cover of John Lennon's "Imagine". 
Camila Cabello sang an acoustic version of "My Oh My" with her boyfriend Shawn Mendes on the guitar, and Billie Eilish performed her hit "bad guy" with a guest performer on the guitar as well, her brother Finneas O'Connell. The Backstreet Boys each took the "stage" from their own houses coast to coast, from Los Angeles, Calif. to Orlando, Fla. 
Other special guests included Ellen Degeneres, Ryan Seacrest, Ciara and Russel Wilson, Melissa McCarthy and Ben Falcone. The concert also heard performances by Dave Grohl of Foo Fighters, Billie Joe Armstrong of Green Day, Tim McGraw, H.E.R., Mariah Carey and many more.
Behind the Byline
Lara Del Vecchio, Art Director
Lara Del Vecchio is Art Director for the 2019-2020 Wessex Wire. She spends most of her time either dancing, tanning or shopping. Her favorite place to go is the Jersey Shore. Fun Fact: She's an only child.