Winter Track and Field brings home sectional title
The winter sports season can prove to be difficult in terms of scheduling, practice and games around unexpected weather or freezing temperatures. However, this challenge did not get in the way of the 2019-2020 winter track team. 
To avoid this problem, the team trains predominantly indoors which can be difficult if they are not actually on a track and rather confined to the West Essex hallways. The school tries to get the team to indoor venues as much as they can, but it is never daily. 
The shuttle hurdle team trained at High Intensity Track in order to practice when the weather was not on their side. They made sure to take this time to fix issues they had in meets so that they wouldn't show up again.
"We made sure to focus on passing zones because we have had issues with them in past meets," senior Jenna Chan said.
However, this was not a major problem for the girls winter track team as they won the 2019-2020 Super Essex Conference Indoor Championship. 
The West Essex winter track team also does not have a home venue so the meets are all either at Ocean Breeze in Staten Island, Toms River at the Bennett Center or the Armory. The meets are far away and can get lengthy requiring a big commitment from all the athletes. Aside from the physical commitment, there are a lot of technical components including proper hydration and nutrition. 
The winter track and field team has become more of a team over the years rather than a collection of athletes trying to be in shape for when their main sports come up in the Spring. There are a lot of athletes fully dedicated to running and have made it something they are willing to work hard on at all times. The team has had a lot of success recently which is a testament to the variety of skilled athletes they have in multiple events.     
The  team has won their eighth state championship this year since 2015. In the Sectional Championship they placed first with 66 points surpassing the second place team by 14 points.  
"We call this time the era of excellence," former coach Coach Emering said. "There are some great athletes right now. One of the hallmarks of West Essex Track during this period of success has been the hurdles."
There have been multiple state sectional champions in hurdles. There have been many years where West Essex has gone first and second in the hurdles. It has been an important  event for the team for a while now, and a lot of success has come from athletes. 
This year Jenna Chan repeated as the state sectional champion in the 55 hurdles, winning as a junior and a senior. Deliah Cruz finished second in this event.
The team also focused on getting a solid shuttle time. The girls hurdle team has had major success this season. Coach Torres has placed first and second in the hurdles and is recognized as one of the best shuttle hurdle coaches. She is a major part of the team's success.
"We've had phenomenal relay teams. I think our kids have really enjoyed being part of a team," Emering said. "It's hard to get four personalities to gel and I think the key to a relay team is to get them to want to compete for each other, not for themselves. They don't want to let each other down." 
The season will end somewhere between March 8 or 10, with the New Balance Indoor Nationals. For an athlete to qualify for nationals, they need to hit specific time marks. The West Essex Winter track team hopes that they will see some of their athletes in this meet. 
"Many of our athletes ran personal bests this season and we hope to continue this momentum in our championship season," Chan said. 
Despite the challenges that weather creates, the far venues the team has to travel to for meets and the long hours of commitment, the winter track and field team has built up their reputation and earned their place as state champions. This season has so far had immense success and the New Balance Indoor Nationals will be another opportunity for the team to succeed.
Behind the Byline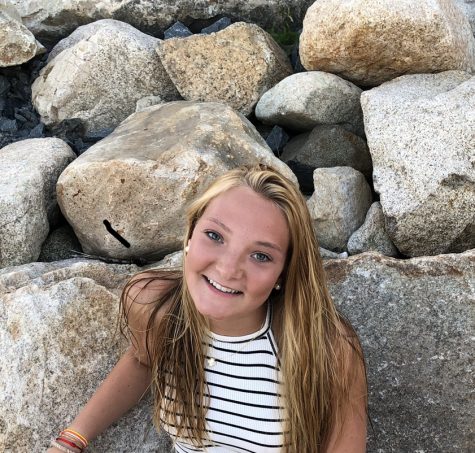 Sophie Kearney, Editor-in-Chief
Sophie is an EIC for the Wessex Wire. Sophie enjoys spending time with friends and family. She also plays soccer and lacrosse for the school and loves going to the beach. Sophie enjoys boating and watching sports.