Festive luncheon kicks off start of new Multicultural Club
The smell of freshly baked pastries, perogies, dumplings and pasta filled the library as the multicultural club hosted their first event on Feb. 4. The luncheon consisted of a variety of different foods from different cultures, brought by members of the club. Club members welcomed the new students in the school and together they gathered in the library and feasted on the spread of food.
Multicultural club is a brand new addition to the abundance of clubs that West Essex highschool offers. The main goal of the club is to provide an outlet for students to celebrate their different nationalities and ethnicities. Juniors Arianna and Morgan Lee, who created the club this year, said they wanted students to learn about their peers' backgrounds in a fun, interactive way.
"We felt the school was kind of lacking in the diversity apartment," Morgan said. "We wanted an outlet for students at West Essex to discuss and connect their backgrounds and cultural differences in a fun way."
Arianna and Morgan wanted to make a big difference in the school, through creating the club and raising more awareness of cultural and ethnic diversity in our community.
"The main goal we want to accomplish is to promote cultural awareness and make West Essex a place where everyone feels accepted," Arianna said.
Advisers for the club, Suzanna Duby and Alicia Perez, both said they value their own personal cultures and backgrounds. They both said that they believe in the goals Arianna and Morgan want to accomplish through multicultural club.
"When we asked Mrs. Duby we weren't sure if she was going to agree and she said yes right away, which shows how invested she is in the club," Arianna said.
"When I heard about the club I jumped at the opportunity because number one, I want to show my support for the students," Perez said. "And number two also participate in it myself because I am a first generation child myself, and my spanish culture, my spanish heritage, my whole family is from Spain, and it is a huge part of who I am. When I get home I'm not speaking English, I'm speaking Spanish."
Perez said she understands the importance of having a space where students can express their differences.
"When I was growing up I remember that I was lucky enough to have people with the same experiences, but I'm not sure that everybody here necessarily has a go to person where  they feel like someone kind of gets where their coming from and if this club can provide that for students I feel like why not, lets encourage this," Perez said.
Arianna, Morgan, Duby and Perez all have very high hopes for the future of the club. They have gained a lot of members since the start of the club on Dec. 13. 
New member, junior, Rosemary Moss joined the club originally because her friends had joined, but since joining she has genuinely enjoyed her time participating in the activities and going to the club meetings.
"I first heard about the club through Arianna and Morgan because they posted it on their insta story," Moss said. "I'm really happy they decided to make the club because it's really fun and interesting learning about different cultures."
Junior and club member, Lena Rondi, enjoyed her experience at the luncheon and even made some new friends from participating in the event.
"I'm really happy I decided to join the multicultural club because I had a lot of fun at the luncheon talking to everyone and the new students," Rondi said. "The food at the luncheon was also super good."
Arianna and Morgan have received a lot of positive feedback from the new members in the club and said they cannot wait for the club to continue to make an impact on the school.
"This club has a lot of potential," Morgan said. "There are already a lot of members and I feel like the people who have joined so far are pretty committed to the club and excited to see what we do next. Students from all grades will join and the younger grades are going to be the ones to carry on this club. Although we started it, I know this club will continue to grow after we graduate."
Behind the Byline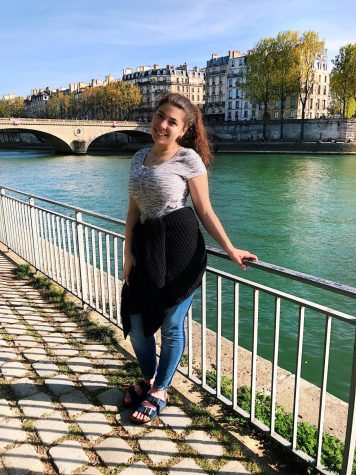 Ava DiGiacomo, Senior Chief News Editor
Ava DiGiacomo is a News Editor for the Wessex Wire. In her free time she enjoys hanging out with her friends or binging new shows. Fun Fact: She needs 20 alarms to wake up in the morning.