2 Knights march into the holiday season
The Macy's Thanksgiving Parade is one of the most iconic November traditions. Every year, the floats run down 77th Street all the way to Macy's Herald Square. This year, sophomore Madison Rombough and senior Ryan Hamburger got the opportunity to march in the parade, representing West Essex with pride. 
Every year select performers are chosen to march in the parade and showcase their talent. It is every performer's dream to be a part of such a classic and memorable show that is broadcasted across the nation. 
West Essex's very own Ryan Hamburger has performed in the parade ever since he was young, and all throughout his high school years. He started off on the floats when he was 8-years-old, freshman year as a teen clown and finally ending as a balloon handler. Since he has been doing this for so long, Hamburger has gotten the hang of the show. 
"I am a parade Veteran. Every year I met a bunch of people who are super excited to be in the parade for the first time, and are clueless as to how the behind the scenes of the parade happens. I however know exactly to expect, whether it be the early wake up or getting on the bus heading to the start of the parade route" Hamburger said. 
For her first year, Madison Rombough was ecstatic to perform. She got the opportunity to march in one of the most memorable parades of the year, right next to iconic celebrities and performers. 
"I had only ever seen these things on TV, so seeing it all in person had me starstruck," Rombough said. 
Along with the excitement, Rombough was also extremely nervous. When hearing that she got picked to perform, she was anxious. She was one of the only sophomores to be picked, so it was a big deal. 
The marching band had a long week of training and preparation before the show. It started with musical practices within each section, then full band ensemble practice and ended with a marching practice all in the same day. Each practice was 4-5 hours of intensive rehearsal. 
"All these things in preparation for the parade are not fun at all. It becomes worth it though when we get too actually walk the parade route, where we have a blast," Hamburger said. 
The day of the parade, the entertainers had to wake up at 2 a.m. for one last practice. They did 2 run throughs of the show up until 4 a.m. The performers then got ready for their big moment out in Herald Square. 
"It was a super early time to be practicing, but we were all so excited about the performance that it didn't bother us too much," Rombough said. 
When performing, the students were able to represent themselves and West Essex with great honor. 
 "Teachers and students all become amazed when I tell them about it, and they always promise to keep an eye out for me. It will be sad when I can no longer share this with the people at West Essex," Hamburger said. 
Through the freezing temperatures and stressful practices, the students were still able to pull of an amazing performance. They left the parade with pride, memories and even some new friends. The performers pulled off yet another spectacular show, and it will definitely not be the last. 
Behind the Byline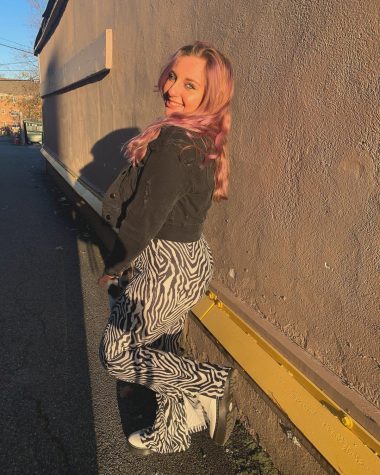 Ally Uhlendorf, Lead Features Editor
Ally is a lead features editor for the 2020-2021 Wessex Wire staff. She has a love for writing and reporting, especially in Features and Arts & Culture. In her free time, she is either singing, listening to Harry Styles, or hanging with her friends. Fun fact: If you get her a caramel iced coffee from Dunkin she will love you forever.