Nico Rosamilia has big goals for the future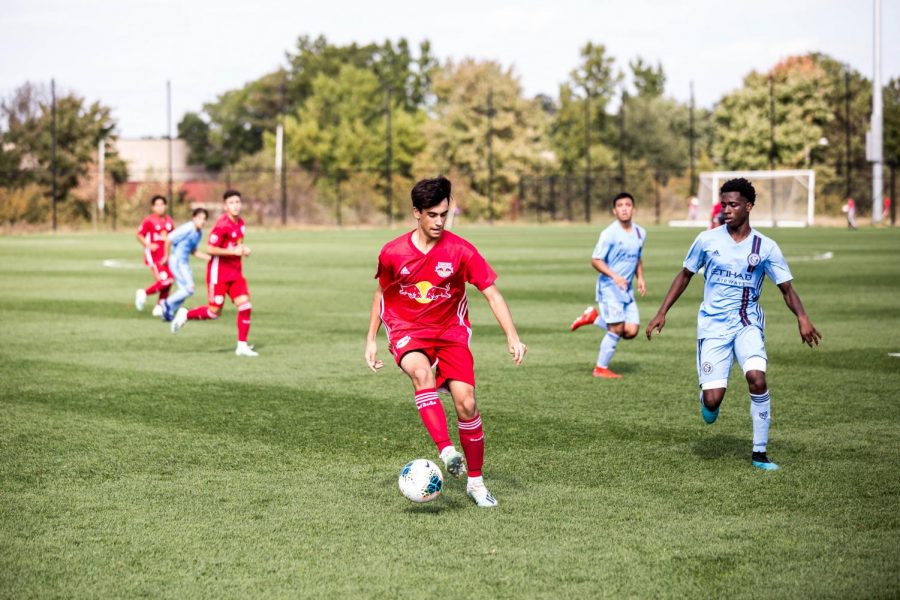 Most athletes complain about their challenging schedules: balancing sports, school and their social life. But nothing compares to the challenges that Junior Nico Rosamilia faces on a daily basis. Rosamilia plays soccer for Red Bull Academy, which is a step below the professional level of soccer. 
Playing a sport at that level complicates Rosamilia's relationship with school in the sense that he does not have the same accommodations as a regular student-athlete does. Rosamilia's daily routine involves taking a long nap after school to get extra rest before practice and doing his homework. Although practice starts at 7:30 p.m., Rosamilia is sure to leave his house at 6 p.m. to arrive at 6:30 p.m., so he has enough time to get treatment and prepare for training. After a two hour practice, the Red Bull team lifts for about 45 minutes. Getting home at 11:00 p.m., Rosamilia finishes his homework and prepares to go to sleep, putting a wrap to a long day. 
"It is pretty hard to balance everything, but I like the challenge and will continue to stick with it," Rosamilia said. 
The sacrifices that Rosamilia makes, including losing time with friends and family, shows how truly dedicated he is to achieving his dream of one day going pro. Rosamilia's goals have only grown, and his practice has only become more rigorous throughout his 14 years of playing soccer.
All of the support he gets from his teammates is also a big factor into making Rosamilia the player he is today. His hard work and sacrifices are paid off when he performs well in the game.
"What I like most is scoring or assisting in big games and celebrating with my teammates," Rosamilia said. "That feeling is worth all of the hard work and time I put into soccer. The best moments are winning and celebrating with your team and coaches."
Because the Red Bull team takes their training very seriously, they are changing the practices to start at 2:00 p.m. beginning in January. This is a major conflict with the school, as Rosamilia will have to miss the whole afternoon. 
"I am planning on working to get a schedule change to where I can leave school a little earlier," Rosamilia said. "The Red Bull Academy is trying to make us go home on an earlier schedule time so we can have dinner with our family and spend more time with our family."
This new practice time can be seen as a huge opportunity for Rosamilia, as the professional Red Bull team trains at this time. This can give him the chance to impress and get noticed by the professional coaches.
Hard work and dedication have gotten him so far, and we can only wait to see what type of success awaits a promising Nico Rosamilia. 
Behind the Byline
Jennie Lathrop, Art Director
Jennie loves the beach, being tan, sleeping, and food. Her favorite type of food is Italian. She loves pasta. Her favorite shows are "Jersey Shore" and "Rick and Morty." Jennie wants to move to Italy when she is older. She loves dogs and babies.