Football captures fourth straight conference title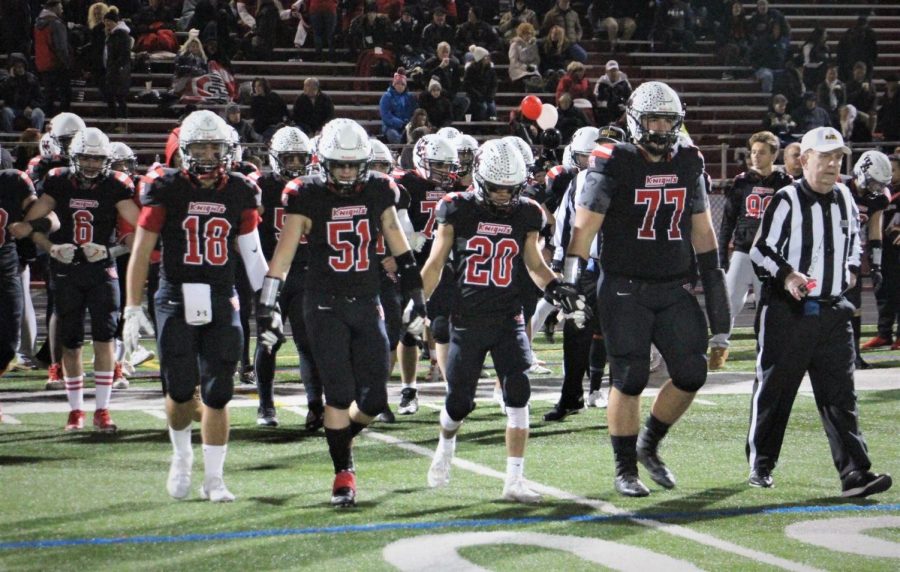 West Essex Football defeated West Side in a close over time game by a score of 23-20   on Friday Nov. 1. This victory named West Essex the champions of their conference, Patriot White. The team also defeated Montville in the first round of the section playoffs. 
"We were a hungry team after our loss last week," junior Michael Dingwell said before the game. 
The team was fired up after losing to Parsippany Hills but stayed focused. They practiced hard all week but prepared for it like it was any other game.
"We didn't even worry about if it was a championship or not,"  senior captain Nick Ciaglia said. 
In this way, they stayed out of their heads and played their game. 
The Knights had overall success and played one of their best games. Despite seeing one of the captains, Nick Ciaglia, go down, the players were able to rise up and and use this as motivation to win the game. They played more aggressive and smarter to secure their victory.
"They wanted to win even more because they felt like they lost one of their brothers," Ciaglia said. The players leaned on each other and rallied to come out triumphant. The offensive line successfully stepped up when they were needed and helped out their seniors. By the end of the game, the teams were tied 20-20 leading to an overtime.
"We went into overtime with defense feeling the momentum from the crowd. We were able to get a lot of pressure on the other team's quarterback forcing him to turn over the ball by throwing an interception." junior Vin Panzarino said. Then Tyler Logan completed a 36 yard field goal to secure the win for the Knights. 
With this win, the football team secured their place in the state tournament at seed No.4. In the quarterfinals of the North Jersey, Section 2, Group 3 playoffs, the Knights edged out Montville by the score of 35-29. The section semifinals will take place at Sparta High School on Friday Nov. 15 at 7 p.m.
"We will take it day by day," Ciaglia said. "We are going to do everything we can to make a deep run."
Behind the Byline
Sophie Kearney, Editor-in-Chief
Sophie is an EIC for the Wessex Wire. Sophie enjoys spending time with friends and family. She also plays soccer and lacrosse for the school and loves going to the beach. Sophie enjoys boating and watching sports.