Greta Thunberg inspires students to combat climate change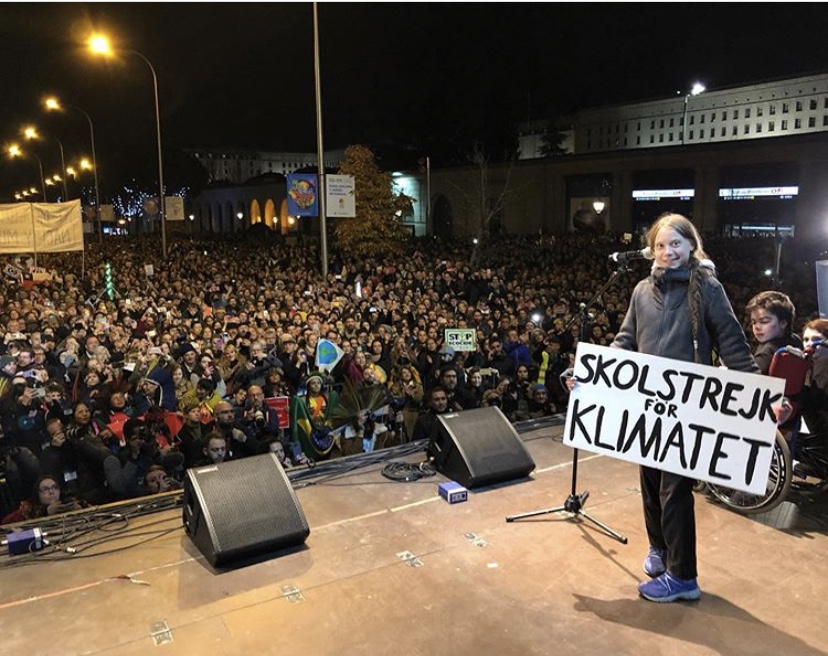 By Jess Coia, Apprentice Editor
November 5, 2019
16-year-old Swedish activist Greta Thunberg has inspired teenagers around the world to take a stand against climate change. After Thunberg spoke at the UN Climate Action Summit on Sept. 23, teens have decided to join the movement along with her to try and combat the environmental issues of the world. 
At the summit, Thunberg spoke with authority in front of the UN about how adults are looking toward the older generation to fix the environment that they have ruined and done nothing about. 
"You have stolen my dreams and my childhood with your empty words," Thunberg said at the summit. "And yet I'm one of the luckiest ones. People are suffering. People are dying. Entire ecosystems are collapsing. We are in the beginning of a mass extinction, and all you can talk about is money and fairy tales of eternal economic growth. How dare you!"
Thunberg's powerful words reached other teenagers all across the world, who in turn, have decided to join the movement themselves. Here at West Essex, Thunberg has captured the attention of students. The president of the STEM club, senior Dylan Huff, said he feels Thunberg's work has made a large difference. 
"It's not a new movement, but it's popularized by her, definitely," Huff said. "Especially since it's the face of a teenager rather than an older adult who has been in politics forever."
West Essex has yet to get involved as a school community, but students have expressed that they would participate if the school were to organize an event. Sophomore Julianna Tornatore says she believes that the school's involvement is important. 
"I think West Essex should get involved in the movement against climate change because even though it may seem like one school in New Jersey can't make a difference, it's not true," Tornatore said. "Every single movement towards fixing climate change will help us and counts in the long run for our future health and our globe."
Tornatore and Huff both claim that West Essex getting involved in the movement would have a significant impact. 
"I agree with what [Thunberg] says, and I value the environment over most other things," Huff said. "I definitely feel that showing that we need to do something is important." 
Huff's leadership role in the STEM club has also led him to consider helping to organize the movement here at West Essex. Senior Gillian Wolf helped to organize a walkout at West Essex in 2018 after the school shooting that occurred in Parkland, Fla., and resulted in the death of 17 people. Wolf said she knows exactly what starting a movement at West Essex would entail.
"You need a proposal, and approval, and then afterwards an agenda," Wolf said. "All of these things were time consuming and effort filled but it was worth it."
A schoolwide effort to be involved in the climate change movement would take a lot of work and planning, but students feel that getting involved is important. West Essex students are just some of many teenagers around the world getting involved. Australian 17-year-old Toby Thorpe organized a strike in his home country in the hopes that future generations will be able to enjoy the island's beauty. 
"It's outrageous," Thorpe said in an interview with CNN in March. "But we're not going to sit and watch our futures being trashed because of [the government's] addiction to the fossil fuel industry." 
Thunberg's message has resonated with teenagers worldwide, inspiring many to take a stand and make a change. Although West Essex students have not taken action yet, they are filled with hope and passion to get involved and make a difference.
Behind the Byline
Jess Coia, Apprentice Editor
Jess is an Apprentice Editor for the Wessex Wire. She is part of the Varsity Volleyball, Basketball, and Softball teams at West Essex. In her free time, Jess likes to spend time with friends, watch TV and travel. Her favorite places she has visited are Italy and Switzerland.