Freshman tennis stars dominate courts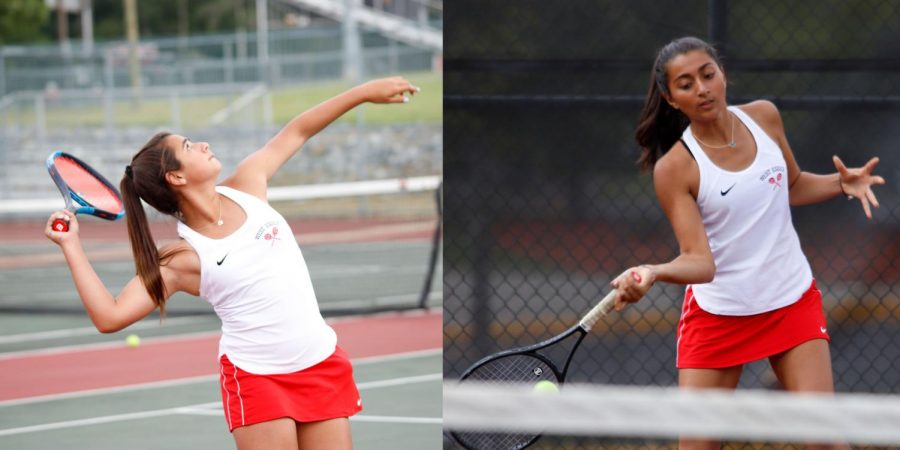 In high school sports, the top players are usually upperclassmen, but freshmen Jordan Cohen and Nitya Vyas led the West Essex Girls' Tennis team as the first and second singles players.
Both girls' childhoods were filled with tennis, tennis and more tennis. Vyas and Cohen both started playing when they were three years old, and their hard work has paid off this season, making their presence on the high school tennis court.
Cohen revealed that tennis has been passed down from her parents, and is in her blood.
"Tennis is such a big part of my family," Cohen said. "I have been playing since I was three, and my dad plays, my mom plays and my sister plays so it is something we do together as a family."
Playing at such a high level as an underclassman comes with a lot of pressure, but Vyas mentioned that there were great senior leaders present, so some of the stress was relieved.
"The seniors were great leaders because they welcomed us as freshmen," Vyas said. "We all work together, kind of like a big family."
Although this is only their first year being exposed to high school tennis, their skills and determined mindsets have been instilled in them since they were toddlers. Coach David Semaya said that by the time Vyas and Cohen leave West Essex, they will be remembered for not only their great play, but also their unforgettable competitive energy.
"In my three plus years experience as a tennis coach here at West Essex this is the best one-two punch we have ever had across both the girls and boys teams," Semaya said. "There have been great individual players, but the way these two have challenged each other has been great for both of them."
The friendly rivalry between the two players has had a positive effect on both of their play. Even though Vyas edged out Cohen for the number one spot in the pre-season matches to determine the team roster, Cohen stepped up to the occasion and grabbed the number two singles spot. She revealed how the system to determine spots works, and how stressful it was to get a spot.
"In the beginning with the challenge ladder it was very stressful because if you lost one match you would be stuck in that lower roster spot," Cohen said. "Once the spots were locked in, there was a lot of pressure not to mess up as the new freshman."
Although the regular season matches are played as a whole team, Vyas competed in the NJSIAA Girls Tennis State Singles matches and advanced to the second round before eventually falling to Neneka Arinzeh of West Orange (3-6) (2-6), but Vyas was proud of her performance given her lack of experience.
"It was a really good opportunity and I got to the second round," Vyas said. "But I ended up losing to a three star. I was closer to beating her than the previous time I faced her."
The girl's season came to an end on Thursday, October 10, but it is a given that Vyas and Cohen will be practicing and preparing for another dominant tennis season next fall.
Behind the Byline
Garrett Kessler, Sports Editor
Garrett is a sports editor for the Wessex Wire. He spends about 99 percent of his time playing, thinking about or consuming golf. 0.5% of his life is spent at Chick-fil-a, Mcdonald's, or Popeyes, and the last 0.5% is playing candy crush on his phone. Fun Fact: Garrett plans on graduating from college and going to Vegas to count cards.