OPINION: Dems fumbled anti-semitic remarks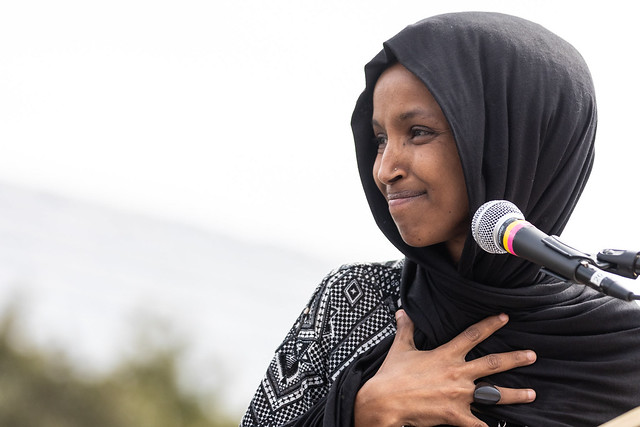 Representative Ilhan Omar of Minnesota and the Democratic Party have come under fire for Omar's recent anti-semitic remarks. In response, Democratic leadership of the House of Representatives sponsored a resolution condemning all hate speech after rejecting a resolution specific to anti-semitism. The Democratic Party has mishandled the situation by failing to directly address Omar's offensive statements.
In February, the freshman Democratic representative from Minnesota sharply criticized a "political influence in this country that says it is OK to push for allegiance to a foreign country," which many people took as an accusation of Jewish Americans being disloyal because of an allegiance to Israel, according to a Feb. 28 article on JewishInsider.com. .According to the New York Times, She also brazenly asserted that American political support for Israel has been purchased by financial contributions from Jews, stating "it's all about the Benjamins baby," in a February tweet. House Foreign Affairs Committee Chairman Eliot Engel, a Democrat, condemned Omar's "unacceptable" statements in a March Politico article, asserting that it is "deeply offensive to call into question the loyalty of fellow American citizens because of their political," and religious views.
Rather than demand an apology from Omar or punish her in some way, the House of Representatives passed a broad-sweeping resolution condemning all hate speech. Sadly, this response misses the mark by failing to directly address the root cause of the controversy, anti-Semitism, or to sanction Representative Omar for her actions. By contrast, earlier this year, Representative Steve King of Iowa was stripped of his committee assignments by House Republicans after he made racist remarks defending white supremacy.
I believe that House Democrats inappropriately handled the Omar situation and that she should have faced similar consequences to King. By failing to take specific decisive action against the anti-Semitic remarks of one of their own members, the Democratic Party has tacitly sanctioned a form of hate speech.
World History and Constitutional Law teacher Timothy Glenn shared his insightful view on this deeply troubling matter.
"I don't agree with what she's saying, but I am a proponent of her right to say it," he said. "I think that if the House of Representatives is going to do stuff about that, passing a generic resolution like they did is pointless. She has the right to say how she feels, but her constituents hold the right vote her out of office."
I agree fully. The only way to show that anti-semitic hate speech is as bad as any other form of bigotry is by handling it accordingly. The  Democratic Party grossly mistreated the situation by allowing Omar to go unpunished and thereby acquiescing to her hateful message.
The only way to show that Omar's words are inexcusable is to treat them as such. If we, the American people, are outraged over hate speech such as racism, we should hold a similar opposition to anti-Semitism. It is unacceptable that Steve King's statements turned the country against him, whereas Omar is receiving praise for her blatantly offensive remarks. The only solution is to make your voice heard and show that America has zero tolerance for all intolerance. We, like the House resolution, must truly condemn all hate speech, in order to create change.