Tennis team rallies for a good season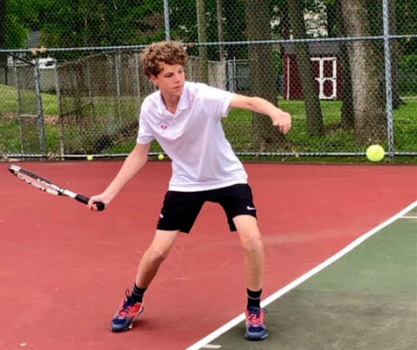 Hang on for a minute...we're trying to find some more stories you might like.
The Boys Tennis Team had an awe-inspiring season in which they went 17-4 overall, and 14-2 in their district, led by seniors Ross Fundler and Kunal Bhatnagar.
Coach David Semaya, was unable to coach this season because of maternity leave, so Barbara Bruchac took his spot as head coach.
"We were definitely able to adjust [to Coach Bruchac]," sophomore Justin Turpan said. "She was able to step in and fill his role well."
Bruchac stepping in proved to be a big help as the team was able to produce their first winning record since 2014. One of the highlights of the season was making it to the North 2 Section 2 semi-finals. On their way, they took down North Plainfield and Hanover Park before eventually losing to the No. 1 seeded Summit.
Junior Matthew Tabatneck, who has played on varsity since last year, said he was proud of his team's performance in sectionals.
"We really played well in the first couple of matches in the tournament," Tabatneck said. "We were going up against Summit in the semi-finals and it was just a tough match, but I am hopeful for next year."
The team has many juniors who will eventually become senior leaders as the team will be placed in a high division next year. The team will be set up for coming years, but there are still some screws to be tightened up as next season will prove to be an uphill battle.  
"We will hopefully be playing some better competition and winning some bigger matches," Turpan said. "We have many juniors becoming seniors next year and I think they will fill the roles of our departing seniors very well."
After several years of being on the losing end, the team is back on their feet and ready to face any challenges in their way. This season was a big statement in the boy's tennis scene, but they will have some adjusting to do in preparation for next spring.
Behind the Byline
Garrett Kessler, Sports Editor
Garrett is a sports editor for the Wessex Wire. He spends about 99 percent of his time playing, thinking about or consuming golf. 0.5% of his life is spent at Chick-fil-a, Mcdonald's, or Popeyes, and the last 0.5% is playing candy crush on his phone. Fun Fact: Garrett plans on graduating from college and going to Vegas to count cards.