2019 mural reflects teenage trends and student body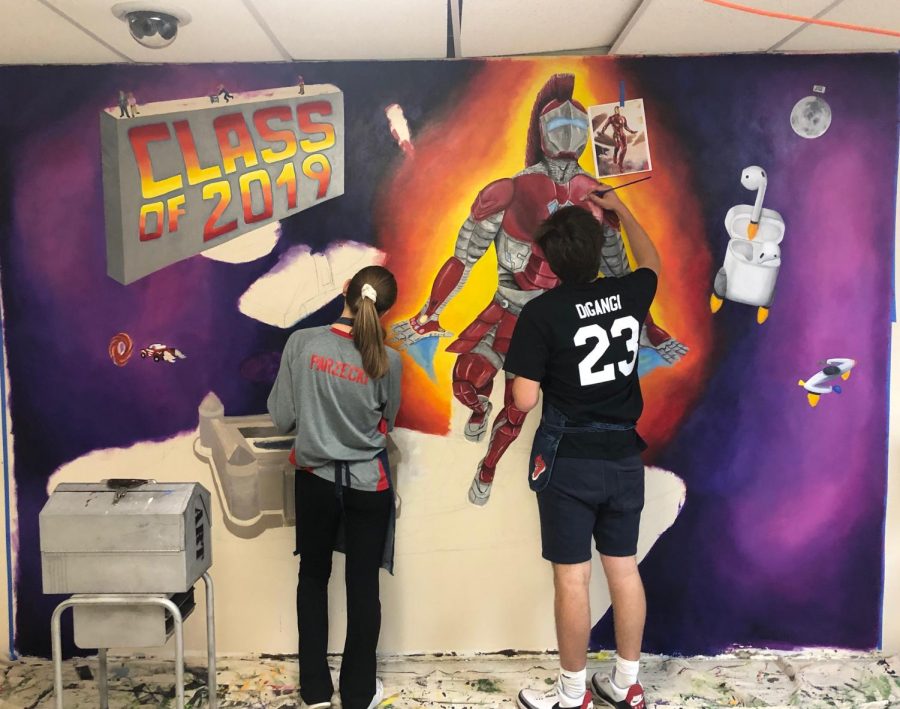 Everyone knows the famous class murals that are scattered around these all too familiar walls of West Essex. The murals represent what has happened throughout the school year and big events in West Essex and the world. From the 9/11 mural to the mural about the school lip dub, the purpose is to represent that year's grade in some way.
This year's seniors, Mark DiGangi, Mary Fant and Julia Parzecki, decided to take a different path when coming up with their idea. Instead of doing events or things that were big throughout their senior year, they chose to make their mural more about the common trends of students throughout the 2018-2019 school year.
"We thought about popular culture, things that came out during the school year and we tried to narrow it down to things we can make a mural about and stuff that was significant enough," DiGangi said. "We also thought about stuff that relates to the school".
Utilizing a version of Iron Man, star of the hit movie, Avengers: Endgame, as their theme, flying Airpods and if you look close enough you can also see that they made a connection to this years Mr. West Essex show by putting in a Bop-it, a skit from the show.
Picking the artists for the mural isn't an easy decision either. Art teacher John Atura said he has a lot to take into consideration when trying to decide.
"A lot of it has to do with how hard they work throughout the year on their AP portfolios and also I try to put together a team that I think will work good together, which is not always the case, but I think this year they are pretty good," Mr. Atura said.
The senior mural is a tradition that represents who West Essex is as a community and every mural makes this school a little more special.
Behind the Byline
Lucia Campiglia, Correspondent
Lucia is a Correspondent for the Wessex Wire. She enjoys playing field hockey, listening to music and binge watching Gilmore Girls on Netflix.