Teams reach students with social media accounts
Sports events are announced every day during morning announcements. Unfortunately, most of these go right over students' heads, meaning teams must use a different way to communicate with students about their victories. Seeing an Instagram post is far more effective for hearing sports updates for many high school students.
For this reason, a lot of teams post either stories on Instagram or post actual pictures about when and where their games are and who they are playing. Teams also use their accounts as a way to congratulate players about different nominations or share articles written about the team or individual players.
For girls lacrosse, senior captain Hailey DeVita said that Instagram allows the team to spread the word about games and other team events hoping to draw in a big crowd to support the team.
"We usually post a team picture either the day of or day before a game to tell people the time and location," DeVita said. "We also post the fun team activities we do together to share it with everyone, including old players and West Essex alumni that still follow us."
Most accounts are run by the captains of the team and each of them have access to post on the account. More sports are finding that this is a really effective way to communicate with people in and out of West Essex.
As for field hockey, junior captain Cameron Kinsella said that the team is able to use Instagram to promote the team and showcase what goes on beyond the field.
"I personally like to post our games and accomplishments on Instagram because it's easy to let people know what is going on with the team and what we have been doing," Kinsella said.
In some cases, multiple seniors have the password so that they can all post what they want in support of the team. However, in terms of the boys lacrosse Instagram, Coach Justin Schwindel runs it himself. This was the first year the team had an account, so Coach Schwindel took the initiative to do it himself.
"I think it was good for me to do it the first year just to kind of model what we want because more than anything we want it to be something to showcase the accomplishments of our guys," Schwindel said. "That's the goal."
Some obvious reasons for having a social media account include announcing games, updating the outcomes of games, shouting out players and highlighting achievements. Instagram accounts are very beneficial for drawing in crowds and getting fans both excited and informed about games. However, Coach Schwindel has been using a different social media outlet for years for a slightly different reason.
"We have a lot of guys who want to play in college and I started running a Twitter account for the team years back and I've had college coaches get in touch with me through that," Schwindel said. "It's a good way to get publicity for our guys and get them recognized."
Social media is a quickly growing form of advertisement for the sports teams. Instagram is one of the most popular social media platforms and proves to be easy to use and effective for getting people excited about the sport. A majority of teams at West Essex have Instagram accounts with hundreds of followers excited to see the games and events that the teams have coming up.
"We live in the day and age of social media and outside of the newspapers," Schwindel said. "This is the way to do it now."
Behind the Byline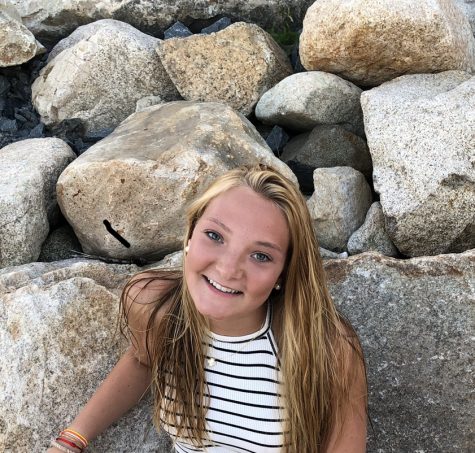 Sophie Kearney, Editor-in-Chief
Sophie is an EIC for the Wessex Wire. Sophie enjoys spending time with friends and family. She also plays soccer and lacrosse for the school and loves going to the beach. Sophie enjoys boating and watching sports.