Breaking borders to study abroad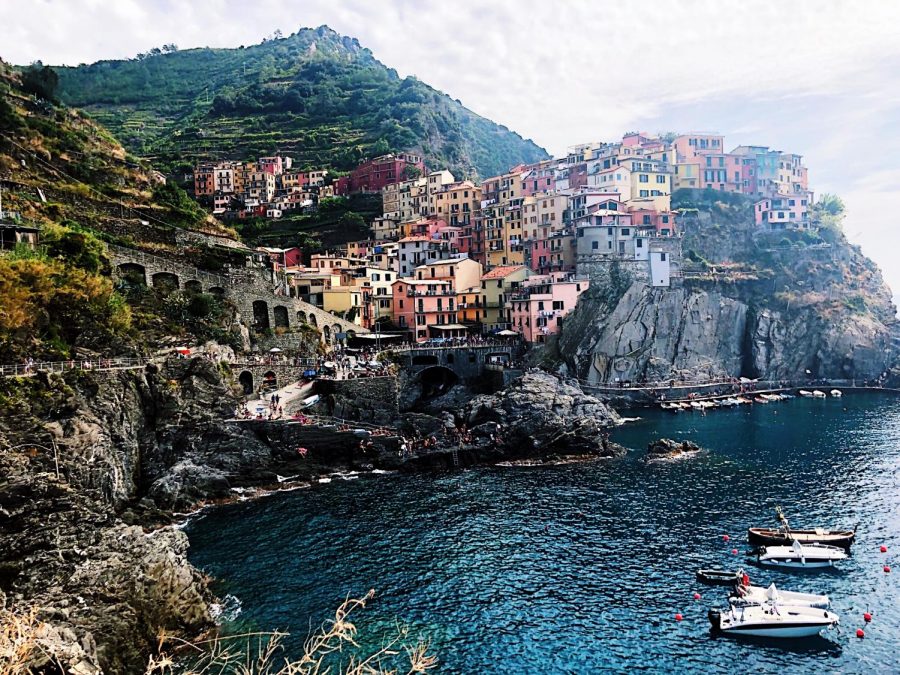 College within itself offers many new opportunities that most students have never experienced before. Some live on their on own for the first time and others experiment with new social scenes. But there's only one educational and social program in college that gives students the opportunity to travel the world and earn college credit at the same time: traveling abroad.
Studying abroad has a variety of different programs based on their major and the curriculum they are a part of. Thousands of colleges participate and over 1,500 have received nominations for stellar programs, according to US News and World Report. Some popular colleges that West Essex students show interest in were all nominated for this award, such as Ohio State University, Boston College, Florida State University and Boston University.
Numerous West Essex alumni dedicated part of their college education to studying abroad. Younger college students shared their aspirations before their trip while other alumni and teachers gave their input about their own experience with the program.  
Scott Barker, Class of '15 and brother of senior Monica Barker, majors in Biology and Pre Med and is currently completing his senior year at Rutgers University. He took this opportunity to study abroad on an island off of Baja Mexico to finally experience what a real biologist does in the field instead of just mimicking it in the classroom.
"A lot of my time is spent in labs working with microscopes in a controlled environment, looking at pictures of natural selection and evolution, but never seeing it in action," Scott Barker said.
Nicole Doud, Class of '15 and senior Christina Doud's sister, is a senior at Montclair State University and studied in Florence Italy this past fall. She took two classes at Florence University of the Arts for her History major and the rest were general education classes focusing on the Italian culture and art.
"People always say that 'abroad' changed them," Nicole said. "It is so cliche, but it is true. It is such a life changing experience and if you have the opportunity you should 100 percent study abroad in college."
She was able to take one to two-hour plane and train rides throughout Italy and other European countries more easily than here in New Jersey. Nicole's only setback about her experience, she said, was that it was peak tourist season during the first few months of her semester abroad which made it difficult for her to get to and from classes and different places. However, this was only temporary and it ultimately allowed her to experience living in Florence as a typical citizen would.
Dana Kinsella, Class of '91 and junior Cameron Kinsella's mother, resided in multiple Italian cities as part of a study abroad program during her senior year at the University of Delaware. Since she was majoring in Political Science and International Relations, she found the idea of studying foreign government intriguing. She then decided to take an International Studies class that focused on the Italian government.
"My favorite part of studying abroad was learning and living in another country and experiencing their culture," Ms. Kinsella said. "The food, the music, the language, the art and the history were all fascinating."
She said she would have chosen to study abroad regardless of her major and suggested that all college students consider the program.

Beyond alumni, two History teachers here at West Essex both left U.S. borders to get an education overseas. U.S. History teachers Catlin Jozefczyk taught abroad in Rome for half of a semester during her senior spring at TCNJ and Beth Vaknin studied in Israel at Tel Aviv for a whole year in 1989 to 1990.
Jozefczyk took part in a special program that her college offered for student teachers that needed to meet certain requirements. TCNJ allowed student teachers the opportunity to study abroad for half of a semester to student teach. She taught both American and Italian students who hoped to one day attend prestigious American universities.
"This program offered me a once in a lifetime opportunity and the experience is something that I will carry with me for the rest of my life," Mrs. Jozefczyk said.
Mrs. Vaknin also traveled to Greece, Turkey, Egypt and France while on her trip. She made good friends and will cherish the memories she made forever. Since she had such a great experience at Tel Aviv, her son is going on the exact same trip this year.
"Everyone should travel abroad," Mrs. Vaknin said. "I had an amazing travel experience and made so many good friends."
Behind the Byline
Lara Del Vecchio, Art Director
Lara Del Vecchio is Art Director for the 2019-2020 Wessex Wire. She spends most of her time either dancing, tanning or shopping. Her favorite place to go is the Jersey Shore. Fun Fact: She's an only child.