Fearing and preparing for midterms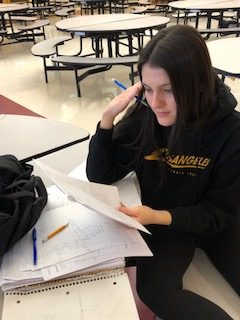 Hang on for a minute...we're trying to find some more stories you might like.
As every January comes to an end, students get ready to endure four half-days of rigorous midterm testing. After a number of different experiments scheduling in years past, West Essex has settled on an exam setup with two testing periods a day, broken out by class period. With a variety of midterms that students will be taking, students each have their own methods to prepare,  along with their own set of fears.
"I'm particularly nervous about AP U.S. History because it is a really difficult class," sophomore Corrine Kessler said.  "I'm going to look over my notes and complete review packets."
Teachers use the week before midterms to prepare their students to the best of their abilities. Their scheduled lessons contain interactive activities to reinforce concepts learned earlier in the year.
"I'm preparing my students for midterms with different review games leading up to the exam and a study guide," Earth Science teacher Timothy Martin said.
Many students get extremely overwhelmed by the stress of the midterm week. Since midterms count for 10 percent of a students' final grade, the pressure is incredibly increased.
"I study very hard for midterms because I know that they can make or break my final grade," junior Francesca Apito said.   
Other students take a more relaxed approach to the testing week. Many upperclassmen keep themselves calm by thinking about the results of their past midterms.
"I've done poorly on midterms in the past, and they really haven't affected my grade," junior Liam Golden said. "I just pretend like it's any other test."
While teachers can use class time to prepare for the information, at the end of the day, it's on the students to mentally prepare themselves. History teacher Caroline Blanchard offered a few tips for stress management techniques:
"Go to Starbucks," Ms. Blanchard said, "remember that it's only a few days, and find something that makes you happy to keep you calm."
Behind the Byline
Gabrielle Kesh, Features Editor
Gabrielle Kesh works for The Wessex Wire. Tennis is her favorite sport and she plays on the school team every fall. Gabrielle loves shopping, hanging out with her friends and taking Buzzfeed quizzes. She also dedicates a large portion of her time to looking at memes. Her favorite show is Glee which she has watched a total of five times. Fun Fact: Gabrielle's favorite Glee character is Blaine.