New Jersey's surprisingly competitive Senate race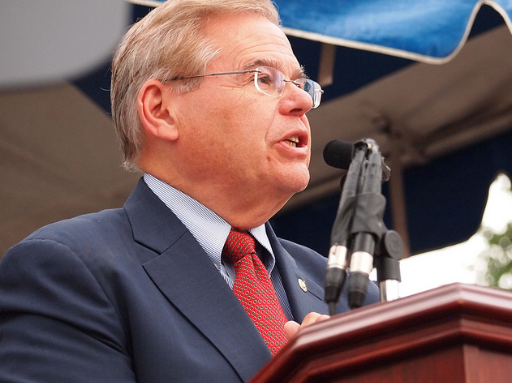 While many voters and viewers around the country wouldn't notice, New Jersey's senate race is actually more competitive than expected. This election is between Sen. Bob Menendez (D), and former Celgene C.E.O. Bob Hugin (R). The combination of Menendez's legal troubles and a financially strong campaign by Hugin has closed the gap in this race.
For Menendez, another campaign for political office isn't new, as he's held this Senate seat since 2006 and has been a career politician. Hugin on the other hand, had served the U.S. as a member of the Marine Corps and later joined a biotechnology company and eventually became C.E.O.
While both candidates are New Jerseyans, they seem to disagree on a variety of issues and each other's past. Menendez had addressed his thoughts on Hugin's pharmaceutical company, mainly the rising of a cancer drug.
"I don't think New Jerseyans are going to buy the judgment of Bob Hugin, who ultimately made a killing off the back of cancer patients," Menendez said.
On the other hand, Hugin has attacked Menendez's political career throughout his campaign.
"Bob Menendez's career of corruption and self-service is an embarrassment to our shared hometown," Hugin said. "It's time for a change."
Polls for this race have ranged from a 2 percent Menendez lead, to an 11 percent Menendez lead over the past three months. The two most recent polls from Oct. 2 and Oct. 5 show Menendez at his highest leads since this past spring. The Oct. 2 poll is also the first time a poll has shown a candidate over the 50 percent margin since the spring.
History teacher Caroline Blanchard expressed how intriguing this senate race is.
"We have a unique senatorial campaign because you have Bob Menendez who has been tried for criminal wrongdoing, so it's making a very interesting race," Ms. Blanchard said.
While Menendez's criminal trial has been a hot topic regarding this race, unknowns about Bob Hugin have also taken center stage in this race.
"Hugin, meanwhile, remains largely unknown with 54 percent of voters saying they didn't know enough about him to form an opinion [about Hugin]," said the latest Quinnipiac University poll.
In this tighter than expected race, voters will have to choose their candidates with lingering factors like the unknowns about Bob Hugin and the burden of Bob Menendez's legal troubles. West Essex students can vote for their next senator on Nov. 6 and make their voice heard!
Behind the Byline
Chris Rysz, Editor-in-Chief
Besides chilling out with his boy Garrett Kessler in journalism every three out of four days, Chris Rysz is an opinion editor for the Wessex Wire. Chris' favorite baseball team is the Yankees, and his favorite player is Aaron Judge.  Fun Fact: Chris is ADDICTED to collecting baseball cards.