'Vaping' assemblies focus more on predatory marketing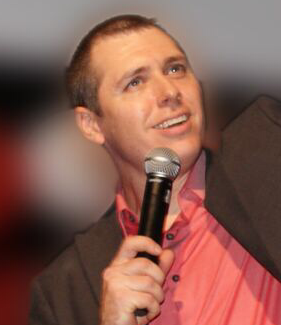 Hang on for a minute...we're trying to find some more stories you might like.
Motivational speaker Timothy Shoemaker warned students of the harmful effects of vaping and corporate marketing strategies that target younger generations during a pair of assemblies on Nov. 20 in the high school auditorium.
Shoemaker, a substance abuse prevention expert and sergeant from the Ramsey Police Department, started by bringing up elements of his own troubled past as a foundation for the assembly. He described himself as a victim of child abuse due to his father's early onset condition of bipolar disorder. His childhood consisted of regular beatings resulting in three traumatic brain injuries and multiple suicide attempts conducted by his sister. These struggles led him to get involved with the wrong crowd in high school and ultimately on the path to juvenile detention before he found a way to turn himself around.
"Somebody caught me making bad decisions and forced me to change my life," Shoemaker said.
The discussion of his childhood resonated with students, but many students who attended were confused as to what this had to do with the stated topic of vaping. Vice Principal Juliann Hoebee said that the administration's intent was to make students specifically aware of how predatory marketing can be to their demographic.
"We recognize everything going on and we just want to bring a full educated view to students with a health perspective and let them make their own decisions," Vice Principal Juliann Hoebee said. "It's important that teenagers understand that they are victims of very successful and manipulative marketing and their brains are still developing so the real health detriments are going to have a lasting impact on them."
Shoemaker transitioned from his own life story to the harmful effects of drugs among students when he said, "If you had seen a glimpse of the future, and it was bad, would you try to change it?"
Shoemaker could not help the unfortunate events in his childhood, he said, but he could have chosen to stay along the right path. This message was targeted toward students encouraging them to always stay on the right path no matter the temptations or allure of peer pressure, alcohol or drugs. He warned that the effects of vaping are not only harmful, but addictive too.
Vaping has been a common behavior and habit among students in high schools around the country, and West Essex is no exception. The fact that smoking is fatal has been an ideal around for ages and there still hasn't been a wake-up call for addicts. They continue to harm themselves because they can't quit.
When vape products were first introduced, the marketing strategy was to make vaping seem like a healthier alternative to smoking, while still being able to experience the "high" of a cigarette. However, according to an Oct. 30 Harvard School of Medicine Published article, "E-cigarette use makes it more likely that youth will start smoking tobacco." In fact, new vapers are four times as likely to become smokers.
Shoemaker spoke at length about the marketing tactics of the cigarette and vaping industries, which he described as built upon lies; teenagers are being manipulated by specific features such as appealing flavors and "healthier" effects, he said.
While the school billed the meeting as "a vaping assembly," many students who attended said they found the assembly's message uneven in terms of preventing actual vape usage.
"I thought the assembly didn't really have anything to do with Juuling until the very end, and it was the exact same information we learned in health," senior Julia Reif said.
"I thought it was interesting how he told a whole background story about his early life that led him to become a motivational speaker," senior Brooke Ivler said. "This really engaged the students, but I don't think it was effective because his story wasn't going to stop a bunch of teenagers from vaping. They must learn for themselves in order to stop."