Science National Honors Society holds first induction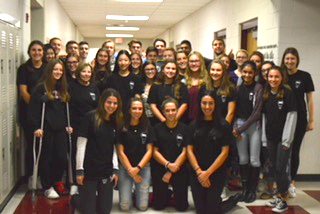 Hang on for a minute...we're trying to find some more stories you might like.
Some students begin thinking about college and ways to get in during the beginning of freshman year. This usually entails playing sports, joining clubs and striving for entry into many of the nine honor societies West Essex offers. These academic organizations act as feathers in the cap for many hardworking students, who can earn recognition for their work in English, art, social studies, foreign languages and more. But up until now, no West Essex students interested in science and technology have had their achievements recognized in such a manner.
Enter senior twins Caroline and Jennifer Ben Nathan, who noticed that West Essex didn't have a local chapter of Science National Honor Society and decided to engineer their own solution. Their hard work culminated in the school's chapter of SNHS on Oct. 16, when 35 members were formally inducted into the society.
"I wanted to create the society because we noticed that there was no STEM-associated honors society at our school, so we thought that if we created a science one, we would successfully fill that void," Caroline Ben Nathan said.
The twins started sketching out plans for the society in summer 2017. Like starting any other club or society, the Ben Nathans needed to reach out to a teacher who would advise. Last fall they reached out to Dr. Denise D'Meo, their former chemistry teacher who previously pushed for a science honor society.
"I thought of it some years ago here and there, but I didn't get any support for an honors society," Dr. D'Meo said. "Some people thought a club would be better, but Caroline and Jennifer were firm about this being an honors society."
The society aims to recognize students of scientific excellence and achievement, requiring inductees to take a minimum of one AP science course and have a GPA of at least 3.75. The twins worked hard to create the West Essex chapter of the National Science Honor Society.
"Over the summer we contacted the principal, my guidance counselor, Ms. Hoebee, and we just kept repeatedly sending emails," Jennifer Ben Nathan said.
The society already had their first meeting a few weeks ago. They will meet throughout the year to hear guest speakers and go on field trips. One is already in place to hear astrophysicist Neil deGrasse Tyson speak in December.
The society also opens up several opportunities that will benefit the members in the future. This includes setting up job and internship positions as well as creating connections for later on. Dr. D'Meo said she is proud of the chances the Ben Nathans have created for students and how she believes the program will be extremely valuable.
"I think we have done a good job providing information about summer internships that are available for our students or just summer programs at different universities," Dr. D'Meo said. "We share information about medical schools with seven-year programs and these are all students who want to be engineers, doctors and researchers. We also have many opportunities for community service."
These additions make the society more appealing to underclassmen. Sophomore Veronica Mierzwa, who wants to pursue a science career, believes the society will provide helpful opportunities.
"I think that the Science National Honor Society is an amazing idea for those who want to continue in the science field in college," Mierzwa said.
The Ben Nathan sisters expressed interest in exploring careers in the medical field. In such, both have been avidly involved in science courses at West Essex. Jennifer Ben Nathan said she believes the AP science courses are the most rigorous courses offered.
The society consists of mostly seniors, with four out of five officers graduating next year. Resultingly, some new inductees will take over SNHS next year and continue working with Dr. D'Meo to make the program even stronger.
Behind the Byline
Catherine McLaughlin, Apprentice Editor
Catherine McLaughlin is an Apprentice Editor for the Wessex Wire. She enjoys playing field hockey, lacrosse, listening to music, and spending time with...