Antisemitic shooting leaves Pittsburgh grieving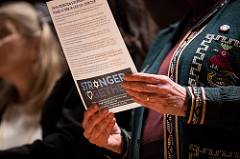 Hang on for a minute...we're trying to find some more stories you might like.
Eleven worshippers, aged 50 and over, were killed and six more were injured in an antisemitic act of violence at the Tree of Life synagogue in Pittsburgh, PA on Oct. 26. The shooter, Robert Bowers, was charged with 29 federal counts, including criminal homicide and hate crimes, according to an Oct. 29 CBS News article.
Bowers was armed with an AR-15 rifle and three handguns as he entered the synagogue a few minutes before 10 a.m. Bowers made clear his hatred towards the Jewish people, previously posting online antisemitic threats and his opinions on genocide in addition to conspiracy theories about Jewish people.
"These senseless acts of violence are not who we are as Americans," Pennsylvania Governor Tom Wolf said in a statement. "My thoughts right now are focused on the victims, their families and making sure law enforcement has every resource they need."
One of the victims was 97-year-old Rose Mallinger, a Holocaust survivor who despite surviving the worst genocide in history, was unfortunately killed almost 75 years later in another antisemitic act of violence. Along with Mallinger, all of the victims were honored at funeral services beginning Oct. 30 that will continue on to Nov. 2.
Behind the Byline
Olivia Lieberman, News Editor
Olivia Lieberman is a News Editor for The Wessex Wire.  In her free time, she likes to eat, spend time with her friends and family and watch A LOT of Netflix (her favorite show is Criminal Minds). Fun Fact: she knows every word to all of the songs from "Starstruck"