'A Star Is Born' makes hearts sing and tears fall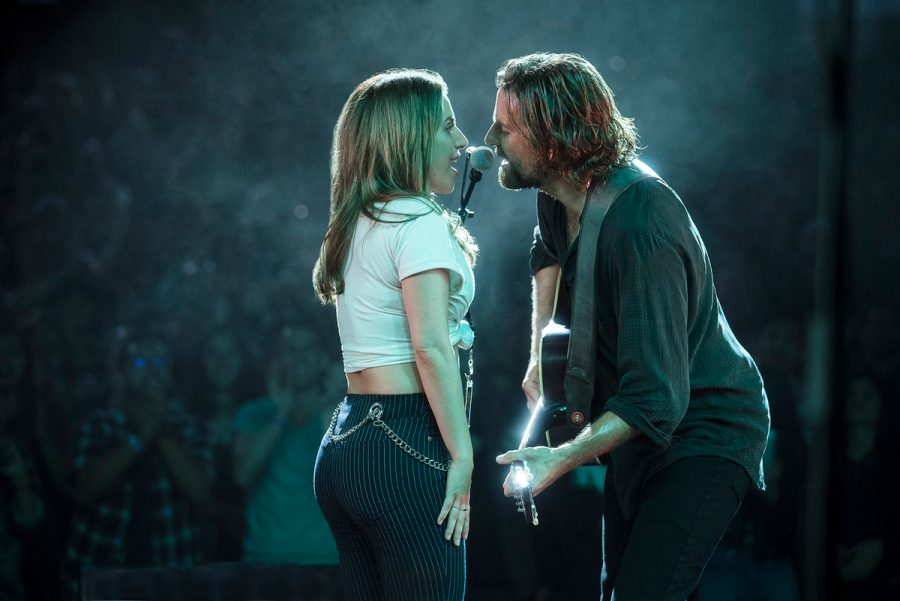 Actor, filmmaker and singer Bradley Cooper joins hands with singer-songwriter Lady Gaga in a remake of the emotional love-story, "A Star Is Born". Reviews are skyrocketing and it has been the talk of West Essex's halls since it's Oct. 5 release.
Cooper stars as Jackson and is the director of the movie as well. Gaga stars as Ally, and paints a story about her losing hope on her dream of becoming a singer, then rising because of her relationship with Jackson.
"It is a complicated love story," junior Francesca Apito said. "And a perfect romantic movie that people will love and that teaches them to strive for their dreams."
"I can't even take how good it was," sophomore Katelyn Doud said. "Me and my friends just blast the music and gush about it. If you haven't seen it you are missing out."
This is actually the fourth version of this Hollywood classic. The 1937 version starred Janet Gaynor and Fredric March, and in 1954, starring Judy Garland and James Mason. In 1977, it starred Barbra Streisand and Kris Kristofferson.
So what is the real rave about this movie? Well, not only is the acting outstanding, but the soundtrack has had it's breakthrough, debuted at No. 1 on the Billboard 200. The soundtrack has record breaking sales just within the first couple weeks of its release. Gaga and Cooper's hit song "Shallow" shows the love and confidence between the two. According to Film News Co., it took Cooper 18 months in proper vocal training to learn how to sing. "I'll Never Love Again" sung by Gaga and Cooper gives listeners the chills by their beautiful and mesmerizing voices.
"The soundtrack is always playing in my car," senior Christina Doud said. "It's a good mix of all different kinds of music… country, rock, pop, foreign music and opera. Gaga and Cooper's voices are impeccable together."
Along with a breathtaking soundtrack, the movie itself had viewers sobbing as the movie came to an end. "The thing that made this movie so different is that you wouldn't expect Gaga to actually act and Cooper to actually sing," senior Adem Kalici said. "It made it a whole different kind of vibe."
Not only did they earn astonishing reviews for the soundtrack, but for their acting as well. It was as if they were actually in love, in real life … as most hope they are after watching the movie. After meeting at Gaga's house before filming the movie, Cooper and Gaga had a chance to connect with each other.
Fans are hoping that these on screen love birds take it to the real world but Cooper's model girlfriend, Irina Shayk and Gaga's fiance Christian Carino are getting in the way. However, the two love birds bonded over some pasta as they made their Italian connections work it's way.
"Cooper and Gaga have such a connection, it doesn't even look scripted," Doud said. "Their acting and connection is so natural."
At the film's premiere, according to a Vanity Fair article from September, Cooper described the movie as driven by chemistry: "The whole thing is that these two people found each other and it is a pure love," he said. "And it is easier when you have somebody with you going down the road. And I had that with Stefani going down this road. I can't imagine having the courage to do it without her."
"A Star Is Born" is turning into a movie that will be remembered for decades. The movie's portrayal of love, dreams and music gives off a remarkable amount of inspiration and a new outlook on life.
Behind the Byline
Brenna Campanaro, Arts & Culture Editor
Brenna Campanaro is an Arts and Culture Editor for the Wessex Wire. She enjoys binge watching sitcoms and chick flicks on Netflix. She loves spending time with her family. Fun Fact: she hates shopping.