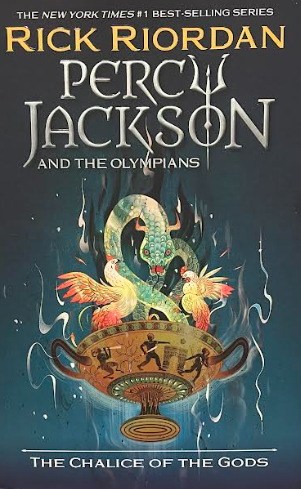 In 2009, the final book of Rick Riordan's series, "Percy Jackson and Olympians: The Last Olympian," was published and the series came to a satisfying end. Readers everywhere said their goodbyes to beloved characters and followed along to a new Rick Riordan series, with Percy appearing as a side character or lesser protagonist in nearly all of them. The idea of a new series seemed out of the question, an idea only addressed by fans as a longing joke. 
So "Percy Jackson and the Olympians: The Chalice of the Gods" was a more than welcome surprise. 
Picking up a little after the Heroes of Olympus series left off, Percy is in his senior year of high school preparing for his greatest adventure yet: college. With his credentials of saving the world nearly half a dozen times, Percy believes that he is more than qualified to attend New Rome University at Camp Jupiter, provided he has a good senior year with solid SAT scores. But Percy can never have it easy and is informed that to apply to college, he must get three godly letters of recommendation. This, of course, requires three more quests with his old crew: Annabeth and Grover. 
Most high school students can relate to the stress of applying to college and having to get everything in order. It starts to feel like a desperate quest. "Chalice" skillfully reminds audiences of why Percy Jackson rose to popularity in the first place. He grew and adapted with his audience, and now, in this most recent book, accompanies readers off to college.
"Chalice" returns with Percy's signature humor, snarky phrases and narration with spunky characters that readers can't help but love. Even though Percy has grown up, he's still the character readers know and love. And now, more than ever, this childhood connection is incredibly important.
Today, most work produced from nostalgia often ends up being a cash grab, appealing to old fans by showing them beloved characters but delivering a weak and uninspired addition to the story. "Chalice" defies that standard. The series' newest addition, instead, is a very poignant book that addresses the struggles and fears of seniors. 
There is something truly scary about growing up and realizing that in only a year from now, you will be an adult. But Percy Jackson, who has always faced the audience's fears with them since childhood, works with them to help them realize it'll be okay.
Percy does not conquer his fears. Never has that been the premise of Percy Jackson and indeed, that would be an antithesis of who he is. Percy has always been a character who embraces change as it is and finds his own way to deal with it. He has never conquered it, but always embraced it with a kindness, compassion and understanding that is sometimes rare to find in young adult protagonists.
Most additions to books and shows struggle to maintain the sincerity that once made them so strong. But in "Chalice," the heart alone reminds readers of why they loved it in the first place. 
Percy Jackson is finally back and he has a comforting message for readers: Growing up is scary and going away is hard, but it's part of life. It will happen, but you cannot be afraid to embrace it. In the end, it will all turn out ok.