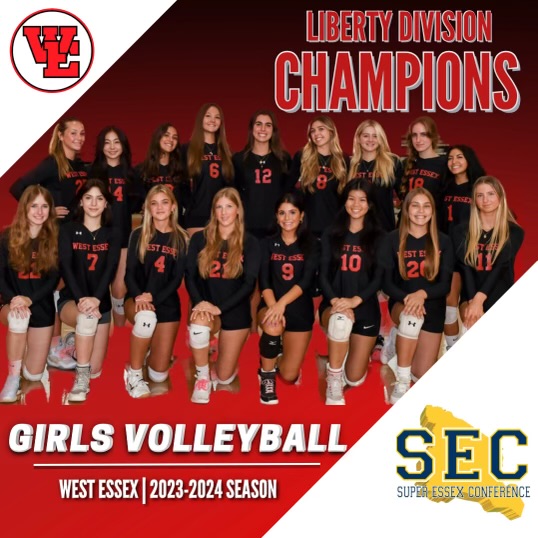 On Oct. 4, the Varsity Girls' Volleyball Team defeated Bloomfield 2-0 to tie with West Orange for first place in the Super Essex County Liberty division. The team's chemistry and hard work on and off the court speaks for itself.
The team's continued success throughout the season is no surprise considering the dedication and teamwork, demonstrated by their 16 wins and 5 losses this season. The last time the team won this conference was in 2018. With head coach Bryan McNaught and another three coaches by his side, the team has improved immensely since last year. The energy has shifted from the past seasons with consistent wins and continued teamwork both on and off the court. 
Despite their age, sophomore Natalia Baca's 133 kills and freshman Olivia Blanco's 134 assists have proven their value on the team this season so far. To no surprise, seniors Sophia Duarte, Alex Jablonski, Emmalin Molinaro and Sofia Moyano have had an impact on this impressive season as well. 
"The team this year has a lot of competition within itself and [that] makes every practice and game a battle," coach Timothy Walsh said. "We have told the girls from the beginning of the season that this team has something different than what we have seen before and they have a stronger mentality and have a bigger desire to succeed."
The season isn't done just yet, and the group still has a few more opportunities to showcase their teamwork and energy. They have a state section tournament coming up later this season. With their place as the #4 seed for the county tournament and the #1 seed for the state section tournament, the girls have a solid chance of winning it all. 
"They have left a mark already by getting a new year put on our banner, but they have more to accomplish," Walsh said. "Something about this team is just different. This year's team is about building a legacy."