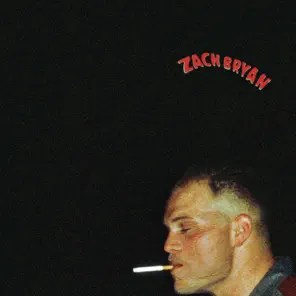 Zach Bryan released "Zach Bryan," on Aug. 25. This album, Bryan's fourth, is filled with 16 songs that feature guest artists The War and Treaty, Sierra Ferrell, Kacey Musgraves and The Lumineers and contains his first No. 1 on the Billboard 200 chart, "I Remember Everything."
Bryan, one of country music's rising stars, started his career in 2017 when he began uploading his music to Youtube while he was deployed in the Navy. In 2021, he was honorably discharged to pursue music full time. His music is a combination of country, blues and rock.
He self-titled his album "Zach Bryan" because he feels it truly represents who he is by using his experiences to write his songs by showing he is a complicated man: a lover, a fighter, a brave man and a coward. Bryan sings about his own feelings and experiences, having written, self-produced and recorded the album himself with his touring band.
Each of his songs tell an incredible story. "Summertime Close" depicts going on a road trip with someone whose health is failing. "East Side of Sorrow" portrays being in a hospital waiting room. Some other tracks that standout for their relatable stories are "Tourniquet," "Jack's Piano – Long Island," "El Dorado" and "Fear and Friday's." If someone is looking for an up-beat pop style country album, this album probably isn't right for them. 
Since Bryan self produces his songs they sometimes sound unprofessional, some find it confusing and others find it authentic. His song "Smaller Acts" has bird noises in the second half of the song, distracting the listener from the lyrics and singing. The bird noises are misplaced, however it feels like you are listening to him perform live.  
"Zach Bryan" makes a strong statement opening with a track titled "Fear and Friday's (Poem)." Zach Bryan's music starts and ends with poems, not caring about conforming to modern country music standards. This poem in particular expresses the value of simple pleasures and reflects on personal growth. This isn't the first time he has added a poem to his albums, he concluded "American Heartbreak" with the poem "The Road I Know."  The poems are unexpected and worth listening to on repeat. 
Bryan announced he will be embarking on "The Quittin Time Tour" in 2024 and will be coming to two locations nearby: Prudential Center on March 14 to 15 and Barclays Center on March 27 to 28. 
"Zach Bryan" is an album that lets listeners know everyone is going through something and it's okay to feel alone, sad, or simply content.