A Final Farewell to the "Late Late Show"
After 8 fun-filled years on air, "The Late Late Show With James Corden" has finally come to an end. With special guests including Adele, Billie Eilish, Will Ferrell and Harry Styles in the final week, the iconic show went out with a bang.
To start off the long-awaited finale, Corden brought out close friend, Adele, to join him for the final "Carpool Karaoke" segment. For the first and last time in the show's history, Corden sat in the passenger seat, while the British singer took the wheel. While jamming along to some of Adele's classic hits like "Rolling in the Deep," the two reminisced on some of Corden's most iconic segments, including Mariah Carey's appearance in 2015.
For the second part of the show's send-off, Corden played the iconic game "Spill Your Guts or Fill Your Guts," (this time with just British food) alongside singer Billie Eilish. They shared a lot of laughs as Eilish looked back on her first appearance on the show at just 15 years old. Considering that this appearance was her television debut, she was incredibly nervous at the time. Corden reassured her that she is a truly amazing person, and that she is still an amazing person today.
For his final celebrity segment, Corden brought on well-known actor Will Ferrell and pop sensation Harry Styles for one last interview with iconic guest stars. As the shows true final farewell, Ferrell and Styles worked together to smash Corden's classic interview desk. Both stars expressed their love for Corden and his show. The three shared some laughs during a quick round of "Spill Your Guts or Fill Your Guts," where Styles hinted towards a One Direction reunion, which went viral on TikTok and Twitter shortly after the premiere.
In the final minutes of the show, Corden performed an emotional song about the ending of the memorable production which spanned nearly a decade. Although viewers will surely miss the talk show host, no one will ever forget the iconic segments and hysterical moments shared on the beloved series. This final farewell to Corden and the team of "The Late Late Show" honored the show's truly incredible past.
Behind the Byline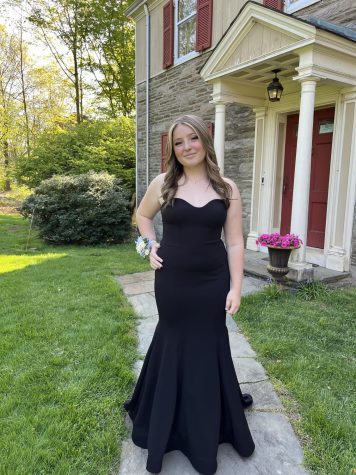 Sophia Nicholls, Arts & Culture Editor
Sophia Nicholls is a 2023-2024 Senior Chief Arts and Culture Editor for the Wessex Wire. She likes to spend time with her friends and family. Her favorite artist's are Harry Styles and Taylor Swift, and her favorite show is "Pretty Little Liars".