Runway of Dreams founder inspires West Essex students to follow their dreams
Mindy Scheier, the founder of accessible fashion company Runway of Dreams, spoke to West Essex students on April 26 about the process she followed in making the fashion industry more adaptable.
Runway of Dreams is a nonprofit organization that raises awareness for inclusive fashion for people with disabilities. This company has partnered with mainstream clothing brands including Tommy Hilfigher, Kohls, Target, Zappos, Steve Madden, JCPenny and Adidas.
This company was inspired by Scheier's son Oliver, who was born with a rare form of muscular dystrophy and simply wanted to wear a pair of jeans to school like his classmates. She believes that every person deserves the opportunity to feel confident and stylish in their clothing. Her career in the fashion industry began as a method for her to research adaptive clothing, and after a year of research, cumulated in Runway of Dreams.
"There are 1.8 Billion people on our planet that have a disability with an estimated 13 trillion in spending power," Mindy Scheier said. "So not only is it the right thing to do, but it's a huge business opportunity." 
Later, in 2019, Scheier created Gamut Management after companies outside of the fashion industry started contacting her about inclusive clothing. Gamut Management is a consulting and talent management company that represents people with disabilities and consults with major brands to help them grow in the adaptive space. 
"Being able to navigate our mainstream world… changes somebody's life and how they live it," Scheier said. 
Her main goal is to motivate younger generations, as accomplished through speaking at schools, a scholarship program and sponsoring Runway of Dream clubs in 20 colleges. 
"My advice would be to never let the answer no be a final answer," Scheier said. "It should be not yet. Not now. It should never be a definitive reason to stop. There's always a way, there's always a pivot and finding a new direction." 
Many students were able to be encouraged through Scheier's story and enthusiasm. 
"Her dedication and perseverance despite not really having prior examples to work off of is inspiring to many looking to create something that the world either has seen very little of or never really seen," junior Sara Chodorcoff said. "Hearing how all her hard work paid off and her gaining the opportunity to work with well-known, established brands was really amazing and motivating." 
Mindy Scheier's story and success was able to inspire students in attendance to take risks when they have an idea and to never give up when it comes to making a change.
Behind the Byline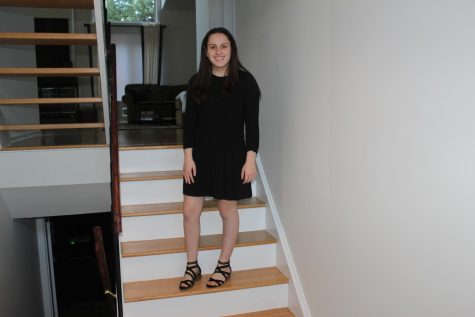 Amanda Ippolito, Apprentice Editor
Amanda Ippolito is an Apprentice Editor for the Wessex Wire. She enjoys spending time with her cousins and friends. In her free time she likes to read, play the guitar, and do puzzles.