Disney Versus DeSantis: What is Actually Happening
Walt Disney World has sued Florida Governor Ron DeSantis over First Amendment violations after a yearlong dispute.
Accusing DeSantis of targeted government retaliation, Disney has brought the case to federal court, following the ongoing debate between the Florida government and Disney. This feud began because of Disney's criticism over Florida's spring 2022 "Parental Rights in Education Act" (commonly referred to as the "Don't Say Gay" bill), according to an April 26 NPR article.
This bill limits instruction and discussion on gender and sexuality in certain grades, according to a March 18 New York Times article. Disney was one of the many critics of this bill, and its former CEO, Bob Chapek has spoken against the bill
Republican lawmakers, including DeSantis, have called out Disney. DeSantis mocked the company, referring to it as "Woke Disney," after Disney announced a variety of changes to make the park more inclusive, such as "Splash Mountain" changing to be based off "The Princess and the Frog" because of the racist themes that its inspiration, "Song of the South" holds and modifications to the fireworks show to include all people, instead of just boys and girls, according to an April 27 New York Times article.
"I think it's important that students are following the culture clashes that started the suits…that impacts students not only in terms of gay and LGBTQ rights, but also freedom of speech and social activism," history teacher Caroline Blanchard said.
DeSantis gained control of Disney's development board, resulting in less autonomy for the company. After taking control of the board, he tried to take away Disney's tax exemption that would have allowed them to function as their own government but failed. DeSantis was able to take some control by only allowing the Florida government to appoint members to the tax board, according to a Feb. 10 New York Times article.
According to a May 18 The New York Times article, Disney recently stopped plans for a $1 billion development in Florida. Lake Nona Town Center would have provided over 2,000 jobs, but was halted due to the feud with DeSantis.
"I will not allow a woke corporation based in California to run our state," DeSantis said last year after Disney criticized him. "Disney has gotten away with special deals from the State of Florida for way too long."
Disney sued DeSantis and his board, claiming DeSantis was unlawfully using his political power to target a private company for exercising its free speech, according to an April 27 CNN article.
"Disney finds itself in this regrettable position because it expressed a viewpoint the Governor and his allies did not like…" Disney's lawsuit said. "…In America, the government cannot punish you for speaking your mind."
The lawsuit seeks to prevent the board from utilizing the power DeSantis acquired. In response, a Florida board is counter suing Disney. The countersuit alleges that Disney's prior board failed to follow proper procedures, according to a May 1 Reuters article.
"This is more than just corporate control over acreage in Florida," Blanchard said. "It's how a state entity could try to squash criticism of government policy."
The suit has garnered a major spotlight with people from both sides.
"I think it's good because it just goes to show that people with political power may use their power negatively," sophomore Melilah Sanchez said.
Disney has now been inserted into national debate. As a private company, some argue that Disney does not have the freedom of speech that individuals do.
"We've seen this before with things like Chick-Fil-A and other brands where both sides will try and mobilize to either support them or not support them," Blanchard said.
Though not yet announced, DeSantis is expected to run for president in the upcoming election and this lawsuit may hurt his chances. Other Republicans like former president Donald Trump and former New Jersey governor Chris Christie have criticized DeSantis, according to an April 12 Northeastern Global News article.
"He's taking a stand, trying to attract national attention to his actions down in Florida, but then you also see New Jersey's former Governor Chris Christie who just came out against it," Blanchard said. "It's not just national politics, but even internal Republican politics, talking about where the future of the Republican party lies."
Disney is a major supplier of jobs and money for Florida. It has a special tax status that allows them to function as its own county government. Because of this, Disney can make its own decisions, saving millions of dollars, according to an April 27 New York Times article.
"The suit is important because of the national attention it has gotten," sophomore Sophie Foodim said. "I didn't realize that companies were able to sue the government."
---
Photo credit: "Ron DeSantis" by Gage Skidmore is licensed under (CC BY-SA 2.0).
Behind the Byline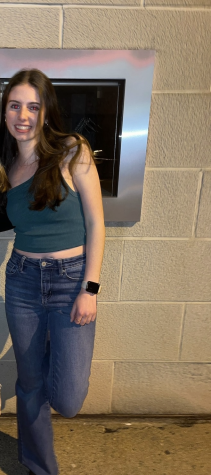 Sophia Rosen, Apprentice Editor
Sophia Rosen is an apprentice editor on the 2022-2023 Wessex Wire. In her freetime, she enjoys playing tennis and hanging out with her friends. Fun Fact: Her favorite ice cream flavor is rocky road.